Business
Growthophobes Beware Of "Increased Density"
GUARDIAN GROWTHOPHOBE REPORT
Boise's city fathers and mothers are just a bit too enamored with the current planning mantra of "increased density," and other "progressive" attitudes that are "outside the box."


In their rush to be "user-friendly" to developers, create demand for public transit, and jump aboard any band wagon with the promise of "jobs and economic development," city officials have created some serious issues with approval of massive stick-built four story apartments in the area west of Capitol Blvd near Ann Morrison Park.
A GUARDIAN reader pointed out the "master plan" seeks consideration of a publicly-funded parking structure to solve the anticipated problems caused by the new units–all privately owned. Even Boise State University officials noted during the planning process that parking issues were being created with the construction of so many living units.
They also lost a supreme court case last week which remanded approval of one set of apartments back to the city because officials ignored parking issues when the builder sought an exemption to a three story height rule. He wanted to add 33% more units without increasing the parking.
Rather than demand fire-safe building materials for the multi-story buildings, the planning department has allowed use of wood construction. We raised the issue of fire safety with Boise Fire Chief Dennis Doan. He declined to comment on the specific projects in the Lusk Street area, but offered the following response to our invitation to post a guest opinion.
Chief Doan said, "Buildings incorporating lightweight construction are likely to present a severe hazard to firefighter safety, if a fire involves or compromises the integrity of the lightweight structural elements. The problem isn't lightweight construction. The problem is what happens when lightweight construction is exposed to fire. The Boise Fire department provides firefighters with extensive training on the hazards of lightweight construction.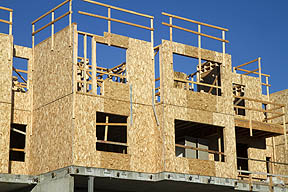 Boise Fire department has standard operating procedures for fires in buildings that incorporate lightweight construction. We use extreme caution in situations where lightweight construction is or could be involved in a fire; the possibility of rapid and sudden structural failure must be anticipated.
When a fire occurs in a structure that is known or suspected to incorporate lightweight construction, all firefighters operating at the incident scene are notified of the potential hazard and operations shall be conducted in a manner that recognizes the risk of rapid structural failure. Extreme caution is exercised when firefighters are allowed to operate directly above or below areas that are supported by lightweight construction that is involved in or has been exposed to a fire.
All firefighters are immediately withdrawn from such areas if there are indications that lightweight construction is involved in or exposed to the fire. A defensive strategy is employed in situations where the structural integrity of a building or a portion of a building is in doubt.
Boise Fire department conducts pre-incident planning of new and existing buildings, including multi-family residential buildings, to identify risk factors and facilitate the development of appropriate strategies and tactics. Firefighter safety is always a primary consideration in the pre-incident planning process."

Even with sprinklers and alarms, it's difficult to ignore the combustibility of wood. It may be strong, but once it gets burned, wood can't hold a candle to concrete and steel.