Growth
Looking Down On Development
With the great weather Tuesday worthy of putting Boise on some magazine "Top Ten" list, we decided it was time to take a close look at the are we write about– from 500 feet in the sky.
Amazing how different things looked from the helicopter! It had been seven years since our last aerial tour of the valley and change is EVERYWHERE. Depending on your perspective the place has either gone to hell in a hand basket or is blessed with lots of "progress and vitality."
Your GUARDIAN editor has been around here for 39 years, has vivid memories of the past and strong opinions about the present. Our two hour flight took us roughly from the airport to Lucky Peak, over the city west to Middleton and Caldwell and back to the airport.
Some observations from on high:
–Columbia Village used to be the town dump. Micron once sprayed effluent from settling ponds on the soccer fields which are still privately owned, but maintained by Boise Parks. Row after row of houses and two new schools.
–Hammer Flats has finally earned the agriculture property tax exemption that was denied last year…thanks to Lt. Gov. Jim Risch leasing grazing rights and running cattle on the land. The proposed site of several thousand homes overlooks Lucky Peak Dam.


–Lucky Peak Dam and Discovery Park are greened up and look ready for the summer season of swimmers and boaters. Nice that water is being used to generate power. Too bad it is owned by the City of Seattle.
–Harris Ranch looked better with cattle. Roads will soon be inadequate. It is no longer a place where the deer and the antelope play. They get killed by SUVs.
–St. Luke's has pretty much taken over the east end that was once a shady residential area. Great to have up to date medical facilities, but we miss the quiet residential area. –Downtown is bursting at the seams with big box buildings. It is jammed together and has little open space as the developers have made maximum use of every leasable foot. We have lost a lot of character and personality that cannot be recovered. The Capitol Building is still "stately," but its dominance of the urban landscape is greatly diminished.
–The sewer plant at Lander street along the river is a park-like setting where 37 years ago we photographed giant plumes of soapsuds floating downstream. Improvements to the plant along with the scientific trash disposal at the county landfill are genuine marks of progress.
–The once vibrant agricultural fields of Eagle, Star, and Middleton have sprouted acres and acres of big houses with dark roofs and green laws eating up fertilizer and water. Again, if you live in the McMansion it is progress, if you like open space, wildlife, fresh air and clean water it is a disaster. Beauty is in the eye of the beholder.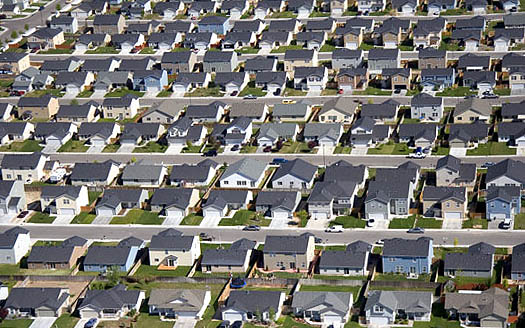 –The box houses with dark roofs between Caldwell and Nampa in the illustration are all too common throughout the Valley. Invariably these subdivisions have limited access to a road and by their design cause huge traffic problems and demands on governmental services.
–We remember when St. Alphonsus hospital closed its doors on the downtown site and moved "way out to Curtis." Today the campus rivals any big city facility in the country…for better or worse.
In summary, we know and accept "change," but cannot be convinced it is "progress." Our valley is being roofed and paved for greed and profit. We all pay for it in taxes and diminished quality of life some of us once knew and loved.