Guardian Top Stories

Monday, January 20th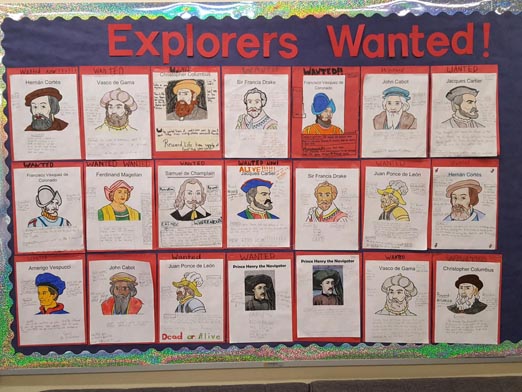 The topic of early world explorers as it is taught in a 5th grade class at Whittier School is likely to fall along generational lines as distinct as Republican and Democratic politicos.
GUARDIAN reader Nate Murphy sent us a set of "wanted posters" from a 5th grade class at Whittier school which pretty much listed a one-sided view of early explorers from Christopher Columbus to Sir Francis Drake. The student-produced posters pretty much made conclusions that fly in the face off what older generations were taught in school.
Murphy was concerned enough about what he saw to share his views with the governor, Lt. gov., legislative leadership, and the state department of education. He didn't get a single response.
We share his letter, the images which upset him, and the official response from the Boise School District's spokesman, Dan Hollar.
MURPHY's LETTER:
As a father of a 1st grader, home owner, and citizen of the Great State of Idaho, it brings me great displeasure to bring this to your attention. I received the pictures below from a 5th grade class in the Boise School District a few weeks ago. If you would be so kind as to review the pictures first, then come back to the body of the email, I think it would help put the following in context.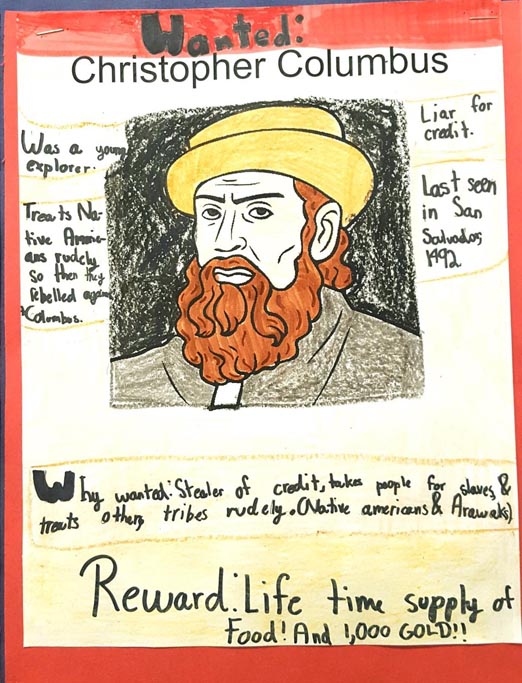 Is this lopsided interpretation of the new world explorers sanctioned by the Idaho State Department of Education? Or are individual teachers allowed to frame history as they see fit? Or, is this a common core standard that we are force fed in order to receive federal education dollars? If the answer to any of the aforementioned is yes, then this concerns me deeply.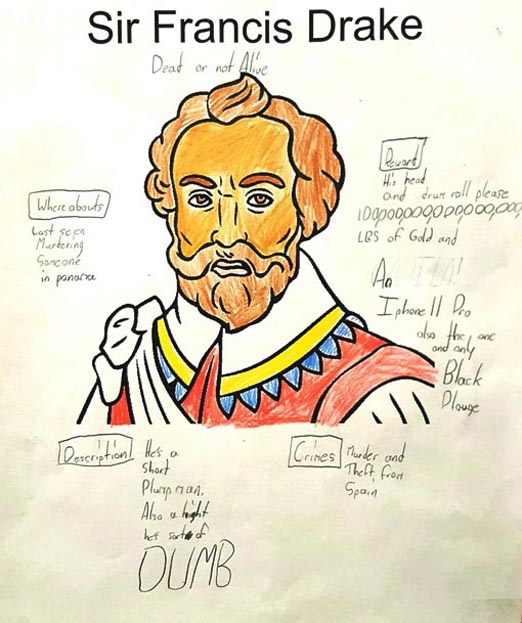 Why are we teaching our children that wanting these explorers dead is okay? Are those the values we expect from our future generation? Especially when, it would seem, the narrative has been skewed? A good percentage of these children, especially those who don't have parents that prepare their kids with critical thinking skills, are going to believe what their teacher says and will go on with life with an indoctrinated, depressed, view of our history and origins. Or, is that the intention?
If my daughter were attending this school, I'd ask her to provide evidence to warrant the charges depicted on these wanted posters. The charge that Sir Francis Drake is "Dumb" for instance, might not hold water. Or the charge that he was last seen "murdering someone" seems to lack specific evidence/context. Also, did the explorers do nothing good, or were they all evil all the time?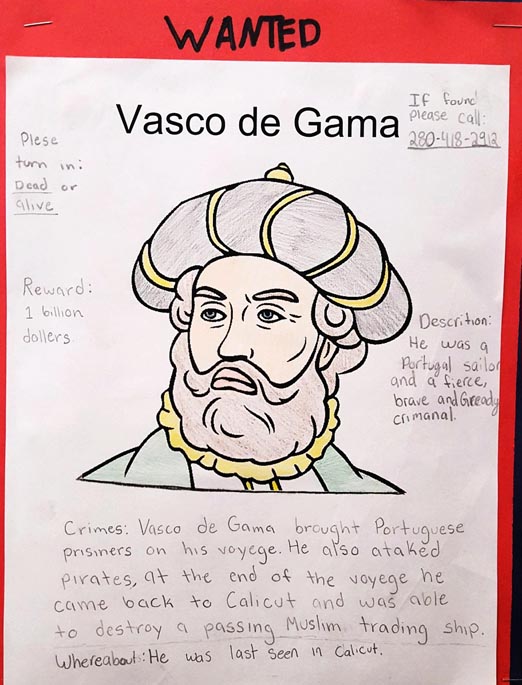 What about including positive info on the courage it took to blindly set sail into the ether, not knowing what might come of you? Or, maybe use this as an oppurtunity to remind the kids that taking risks can be a good thing. Or how about the valuable lesson of self reliance and working as a team, with regards to the crew in the middle of nowhere, themselves trying to survive.
And if it weren't for explorers coming here centuries ago we'd never have such luxuries as trying to blame those past explorers, while viewing their actions in the past, through the eyepiece of the telescope of the present, for deeds, though some unfortunate, gave us this very land to comfortably complain within.
I look forward to hearing all of your thoughts.
Sincerely,
Nate Murphy
BOISE SCHOOLS STATEMENT:
Given the abundant amount of information available today, we believe it is important that our students have the skills needed to accurately weigh all the facts and information before coming to a conclusion. To build these critical thinking skills, our teachers ask our students to seek knowledge and ask questions. Students are also expected to be able to discuss topics from many points of view and present a well-rounded and thorough examination of the topic.
Studying historic explorers is part of our social studies curriculum. A key component of our curriculum is to encourage students to look at history from multiple perspectives. The objective of the assignment was to study explorers and to look at this time frame through the lens of the relationship between the indigenous tribes and the explorers. Unfortunately, a small and selective portion of the assignment is being used to make a political point and is therefore misrepresenting the overall intent of the assignment. When the complete assignment was presented during parent teacher conferences, parents were supportive of the lesson.
We invite any parent or patron of the Boise School District who would like to learn more about how our students are being prepared to think critically to contact us at anytime.

Sunday, January 19th
For the past five years Growthophobes have been fed a steady diet of proud proclamations that Idaho is the fastest growing state in the country, #1 place to retire, most bike friendly, etc.
Looks like we are also in the top ten when it comes to spending to put away criminals.
But rather than tax the developers, bankers, mortgage brokers, or new businesses for housing the crooks, Idaho State Government dumps on the local counties by cheating us out of the cost to house the criminals sentenced to the custody of the Idaho Department of Corrections. Instead, the politicos offer tax breaks and advertise in California for folks to "Come To Idaho."
It costs local counties about $100 per day to lock up offenders in the local slammer. IDOC has come up with a unique proposal to balance the state budget–screw the counties!
Under the current formula, the state pays $55 per day for each inmate for the first seven days and $75 per day for every day thereafter.
"A single daily flat rate is the way to go," Idaho Department of Correction director Josh Tewalt told the legislative joint appropriation committee last week. IDOC is proposing a single daily rate of $60 for fiscal year 2021 and $65 for fiscal year 2022.
Ada County Sheriff Steve Bartlett called Tewalt's proposal, "A terrible plan."
Canyon Sheriff Kieran Donahue said, "If this proposal were to move forward, it would reduce our IDOC reimbursements by approximately 15% per year. That loss of revenue would have to be made up elsewhere, likely in the form of increased property taxes. In short, this proposal is nothing more than an insult to county taxpayers and county sheriffs across the state."
Instead of offering tax breaks to businesses to relocate in Idaho, it would seem more logical to simply institute an "impact fee" on those newcomers including the developers who profit from all the increased population…and crime.
GROWTH CREATES MORE CRIMINALS AND NEED FOR PRISON BEDS
Most cities and counties in Idaho tell us the crime RATE per capita has gone down. So why the need for more jail and prison cells? Well, the "per capita" may have gone down, but there are more "capitas." (Example: 10% of 100 is 10. 8% of 200 is 16. A 20% reduction in the rate, but a 60% increase in raw numbers)

Saturday, January 18th
After reading her statement of purpose and intent on the Boise City website, we have hope for some actual changes at the office of Mayor Lauren McLean as "Clan McLean" takes over the big corner office on the third floor.
Here are the main points of her message:
Public Online Calendar: My calendar will be available online for anyone to see. Residents deserve to know who their mayor is meeting with, when, and why.
Open Door Policy: I will maintain an "open door" policy. If a resident drops in and would like to talk, I'll do so whenever available.
Direct Text Line: I will continue to provide a dedicated text line to citizens. Residents value an easy way to get in touch, and I want to maintain that.
Monthly Listening Sessions: I will also continue my informal, unstructured, open listening sessions, moving through the city over the course of the year.
No Corporate Money: As a candidate and now as mayor, I will not accept corporate or corporate PAC donations.
No Soliciting of City Employees: Additionally, I will make changes to our ethics rules prohibiting the mayor from soliciting donations from City of Boise staff. No employee should ever feel like their job is dependent on supporting the mayor politically.
Election Reporting: Elections reporting shall move from the City Clerk to the administrator of City Elections, the Ada County Clerk. It's unreasonable to expect the City Clerk and staff to enforce elections compliance for the mayor, city council, and PACs supporting them.
Press Availability: I will be available for in-person, unprogrammed bimonthly (twice a month) press roundtables with local reporters. The press are an essential part of public accountability, and I appreciate their service to our community.
I am working with our professional city staff to accommodate and integrate these changes now, and we expect to have them fully implemented by February.
Additionally, in the coming weeks, I look forward to sharing information about property taxes, budgeting, affordability, and the work of my six citizen committees. I remain steadfast in my commitment to tackling the issues Boiseans care about most.
Contact: Mayor's Office Media Relations
(208) 972-8527 | info@cityofboise.org

Monday, January 13th
Former Boise City Councilor Scot Ludwig stepped down from the CCDC, Boise's urban renewal agency in order to give newly elected Mayor Lauren McLean to a chance to appoint someone who shares her vision for downtown.
Ludwig suggested in his letter of resignation that McLean appoint a current City Councilor to fill the vacancy he created.
Although the Capitol City Development Corp. (CCDC) is the city urban renewal agency, it is an "independent body, corporate and politic." The mayor appoints members, but city control stops at that point. No more than half the members can be city councilors.
Former Mayor Dave Bieter appointed himself and unless he makes the same gentlemanly move as Ludwig, he will remain on the board until his CCDC term expires in October 2022.
All of the current members of CCDCV are Bieter appointees and supporters.

Thursday, January 9th
You may not be able to choose your relatives, but if you are Clan McLean you can choose your clan members. Here are some roster changes in the office of Mayor Lauren McLean, courtesy of Margaret Carmel at the IDAHO PRESS
Since Tuesday, four of former Mayor Dave Bieter's employees left the city's payrolls, including:
Communications Director Mike Journee
Intergovernmental Affairs Director Amber Pence
Mayor's Office Administrative Assistant Tracy Hall Johnson
Constituent Services Coordinator Jeffrey Janis.
A list of employees in the Mayor's Office provided to the Idaho Press Tuesday showed nine staff in the office, plus Bieter. A similar list Wednesday showed five employees and McLean.
Among those who stayed are:
Chief Operating Officer Jade Riley
Policy Advisor Robin Lee-Beusan
Mayor's Office Administrative Specialist Danielle Torres
Director of Community Partnerships Wyatt Schroeder.
A new member of Clan McLean is Chief of Staff Courtney Washburn, the former executive director of Conservation Voters for Idaho, which was a major fundraiser for the McLean campaign.