Guardian Top Stories

Friday, September 23rd
By DAVID R. FRAZIER, editor
Boise Police Chief Ryan Lee was relieved of his duties Friday by Mayor Lauren McLean amid unrest from the police union, investigative news reports from several legacy media agencies, a potential lawsuit from an injured officer, which included a criminal investigation into his personal actions.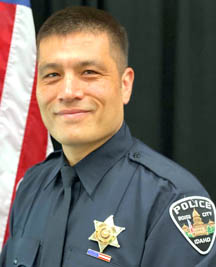 According to reports, Lee will be on "paid leave" until October 14, but former Assistant Chief Ron Winegar has already been named acting chief.
Lee hired several "command staff" from Portland–his former place of employment. He also brought in commanders from the Bay Area of California. Put bluntly, the department is in disarray and veteran captains and officers have retired early, quit to work for lower wages at other agencies, and even spent huge sums to qualify for the state PERSI retirement program.
Rather than list the litany of complaints and incidents alleged against Lee, the GUARDIAN will once again renew our plea for a citizen advisory police commission and offer insight and opinions garnered over more than 50 years of intense contact and scrutiny with Boise PD. We have met frequently over the years with officers and the chiefs to share views on behalf of the citizens of Boise.
Here are some points that should be followed in any future hiring decisions.
–The citizens of Boise need to be represented with a police commission comprised along the same organizational lines as the airport, park, P&Z, Library, Public Works, commissions. BPD is the single biggest consumer of tax dollars and citizens have no formal voice in the operation or budget decisions. We deserve better. Even the U.S. Department of Defense is managed by civilians with a staff of military experts.
–The mayor and council have forgotten the citizens when it comes to policing. They talk with the union (including Friday prior to firing the chief), but they seem to forget the citizens. The union deserves to be in the equation, but it appears they are driving the decision process.
–Today's police executive needs to be capable of managing a budget in excess of nearly $80 million. Duties include fleet management, personnel and legal issues, training, site selection, politics, community relations, etc. In short: there are not many coppers who are qualified to run an $80 million corporation.
–A new police chief needs to reflect the values of the community, so we are not enthusiastic about a "nationwide search" for a new chief. Likewise, there are many pitfalls in promoting from within because friendships and biases can interfere.
–An executive with Boise or Idaho ties would be ideal. In short: a police chief can be a civilian manager with a staff of expert coppers in the command staff. Former U.S. Senator Frank Church who was chairman of the Foreign Relations Committee once told me, "About anyone can decide most foreign policy, BUT it takes an expert to implement it." We have similar views on a new police chief. We need someone who understands the needs of the officers AND the public, not necessarily a gun toting copper who is at the end of his career.
Frazier is a 54 year resident of Boise. He was the police beat reporter for the Statesman, a police officer, and state of Idaho Law Enforcement Planning Commissioner.

Friday, September 9th
Organizers of this weekend's Gay Pride Festival have dropped the drag show for 11-18 year-olds from the schedule after seven sponsors, including the Idaho Health and Welfare, dropped their support.
Controversy erupted after conservative groups, the Republican Party, and others complained about "the sexualization of children" in the planned kiddie drag show.
"While the vast majority of our sponsors and supporters have voiced their support for the Boise Pride Festival and the Drag Kids program, we have made the very difficult decision to postpone this performance due to increased safety concerns. The health and well-being of the kids, their parents, and the attendees of the Festival are our priority," a Pride news release said in part.

Wednesday, September 7th
The talk radio right and conservative social media is sparking with news that Boise's Pride Parade Sunday will feature a "Drag Queen" festival on stage…for 11-18 year-olds.
The EVENT.
The GUARDIAN has discussed the event with our trusted liberal and gay friends. We also talked to some middle of the roaders and conservatives. At first they all doubted the event was actually scheduled. When it was finally sorted out, the consensus was as follows:
–Sponsors probably were unaware that young boys would be on stage as part of a gay pride event.
–It is inappropriate to use kids on stage for such an event.
–Boys, girls, and non-gender folks of any age should be allowed to dress as they please.
–Organizers are fanning the flames of discontent with the "in your face" act.
–The news media and the GUARDIAN wouldn't publish images of juvenile suspects involved in criminal cases and the same rule would logically apply for child drag queens (princesses?).
Finally, based on the plethora of images on the internet, an appearance as a drag performer at a young age could stay with someone for their lifetime and would easily pop up during a Supreme Court nomination hearing or at a future criminal trial.
3pm 9/7/22UPDATE–Zions bank has withdrawn sponsorship based on the child event.

Wednesday, August 31st
No charges will be filed against Boise's top copper, Ryan Lee, following an investigation by Idaho State Police and the Clearwater county prosecutor into a "training incident" involving a choke hold.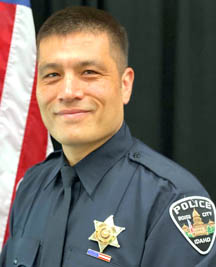 The officer who was allegedly injured has filed a tort claim against the city of Boise. That civil action is yet to be resolved.
The ISP NEWS RELEASE:
The Clearwater County Prosecutor's Office will not file criminal charges against Boise Chief Police Ryan Lee after reviewing the investigation results of a briefing incident. The investigation was conducted by the Idaho State Police and reviewed by the Clearwater County Prosecutor's Office.
"I believe this investigation has been taken as far as possible," says Clearwater Prosecutor Clayne Tyler. "I recommend at this point in time against filing a criminal charge."
It is standard protocol for an outside agency to review potential criminal conduct, and Idaho State Police investigated the incident. Detectives interviewed the victim, Chief Lee, witnesses and gathered evidence. Due to the potential conflict of interest in working with the City of Boise, Ada County Prosecutor Jan Bennetts requested Clearwater County Prosecutor's Office review the investigation and provide a charging recommendation.

Monday, August 29th
The GUARDIAN has come to the conclusion we need to have a single ombudsman for all city departments to act on behalf of citizens when it comes to resolving minor disputes, providing access to knowledgable officials, and generally being a voice for citizens.
Over the years we have seen a marked disconnect between citizens and those we permit to represent us. For instance the chances of making contact with a human being when you call city hall, police, fire, or most offices is close to "0".
Most of the time you get a recording telling you to leave a message or go to the internet. For many of us that translates to, "We can't be bothered by you. Just go away." Often as not calls are simply seeking information such as a phone number, name, trash policy, etc. Those calls used to be handled by a telephone operator who knew where to direct inquiries or even answer questions. Attempts to get "code enforcement" action are legendary.
Two administrations back they had the "Mayor's Hotline" where folks could call in and alert elected councilors and the mayor about events. The summary of calls was a public record and provided great copy for the GUARDIAN.
Notable events were "strip hockey" at Ice World and driving two Zamboni ice grooming machines through the take out line at Burger King. The Zamboni story went worldwide.
After repeated stories from citizens were made public, Boise officials discontinued the hotline summary, thus depriving councilors of public concerns as well as good copy for the GUARDIAN.
Over the years we have solved many issues between citizens and officials simply by using common sense–like an ombudsman should do. When coppers smashed an apartment window during an arrest, the owner was stonewalled by a lieutenant and called the
GUARDIAN. A single phone call got the window fixed.
When multiple police converged on a house recently and left soon after, a reader complained it looked like a "wrong address drug bust." Again the GUARDIAN learned it was a call from a frightened woman who was hiding in her bedroom after hearing what she thought was an intruder. Coppers did break down the door, but there was no intruder and the woman was relieved to have the response.
These examples should be handled by an ombudsman representing citizens who has unlimited access to city department heads and authority to be a "direct representative of the mayor." This guy or gal could be "my contact at City Hall" for everyone.