Guardian Top Stories

Friday, December 2nd
A news release from the City of Boise Friday afternoon announced that Boise's Office of Police Accountability Director Jesus Jara had been put on administrative leave "effective immediately."
The action was at the direction of Mayor LaurenMcLean, City Council President Elaine Clegg, City Council President Pro Tem Holli Woodings, and City Council Member Jimmy Hallyburton. There was not a quorum of the council present, but council members Lisa Sanchez, Luci Willits and Patrick Bageant, were informed of the move and none of them objected. That move circumvented Idaho's open meeting law.
Jara had previously recommended that former Chief Ryan Lee be placed on administrative leave during an investigation of Lee's conduct with another officer which allegedly resulted in a neck injury. Lee was subject of nine complaints from within the department. The surprise move to bench OPA Director Jara is the latest round of unsettling action involving Boise PD. In the city press release announcing Jara's suspension, "ongoing concerns with professional judgment and lack of confidence in the actions of the office" were cited as reasons for the suspension.
Insiders speculate that Jara, who by city code has access to all police records and body cams, may have "bombshell information."
Last week the office of City Attorney sent a memo to city staffers and coppers warning them to preserve any potential evidence in the investigation surrounding the revelations of racist allegations against retired captain Matt Bryngelson who had attended a white supremacy meeting and made racist remarks. Bryngelson was one of the nine who filed complaints against Lee.
The city memo was seen by some officers as an intimidation. They felt the memo was an attempt to gain access to officer's private phone and computer records. The city said it was only to preserve evidence.
HERE IS THAT MEMO:
TO: Boise Police Department Employees
Jesus Jara, Director of Police Accountability Sarah Borden, Human Resources Director Alex Winkler, Chief Information Officer Lynda Lowry, ex officio City Clerk
FROM: Megan Larrondo, Deputy City Attorney
CC: Jayme Sullivan, City Attorney
Doug Tyler, Chief Admin Officer
Kimberly Smith, Public Safety Division Sr. Manager Alison Berriochoa, Paralegal
DATE: 11/23/2022
RE:
Investigation into Discriminatory Policing and Conduct at BPD
PRIVILEGED AND CONFIDENTIAL ATTORNEY-CLIENT COMMUNICATION AND ATTORNEY WORK PRODUCT
ALERT: DOCUMENT RETENTION/LEGAL HOLD NOTICE
Continue reading here…

Sunday, November 27th
Guest post
By Detective Guy Bourgeau
Local 486 board member Boise PD Union
Like all of you I was pretty shocked when news broke recently about our former co-worker Matt Bryngelson. At first I thought it some sick joke but it didn't take long to figure out it was all true. I've known that man for 20 plus years and never could've guessed this would happen. I'd never even heard of these groups or knew who Daniel Vinyard was. Twitter was educating me quickly. The more I read, the more disgusted I was. My better half couldn't even bring herself to read it at all.
I thought I could write a well thought out, big worded essay in this case but then that would've been insincere at best, so I spoke with my coworkers and decided the best course would be just putting it out there. I don't know how to express this adequately but that is simply not how we think here at BPD. I was pretty sure early on that this incident would bring out all the haters saying " I told you so" and I wasn't disappointed. They showed up in force looking to reinforce any preconceived notions they already had. I wasn't worried so much about those folks, despite my efforts to change hearts and minds, sometimes it just won't happen. We are a part of this community and we are deeply invested in keeping it safe and beautiful despite the many challenges we continue to face.
I started my career in policing back east in 1993, it didn't take long to realize that was a miserable place to work. When I came to visit Boise in 1998, I figured out quickly that this was a special place. BPD officers cared deeply about the community and I saw what professional policing looked like. I got hired in 2000 and never looked back. Since that date I've never seen anything that looked like biased policing or heard any of the beliefs held by Bryngelson. This is a pretty good place to be a police officer, it has great community support and we never fail to recognize that. Almost daily someone thanks us for being there at a football game or on the streets. It's a great feeling that is not lost on us. It is something we take very seriously and when anyone does something to damage that trust, it hurts us all deeply.
What I did see following the recent revelation was department wide shock and disgust. I'm pretty comfortable speaking on behalf of all my colleagues that we are all incredibly upset and disappointed that we had been fooled all this time. The thought that somehow these are widely held beliefs department wide or in Idaho law enforcement are simply not true. I've read the stories that people post saying we will cover for each other, the "Code of Silence" and other conspiracy theories. It is simply crazy to believe that we are going to protect someone like that or any other misdeeds. I'm not about to risk my family or career for the stupid acts of another….. The simple truth is no one hates bad cops more than good cops. These are the ones that give us bad press and damage that trust. Not to mention the peer scrutiny we have in law enforcement is pretty rigorous. We are tougher on each other than anyone can imagine. We all cherish the trust the community has given us and when someone does something to damage that, we take it pretty seriously. I can use words like disgusting, condemnation, saddened, disappointed….. they all apply here. Mr. Bryngleson does not represent ANY of the hardworking officers of the Boise Police Department in any way, shape or form. It's been a lousy week for all of us.
That brings us to the topic of our mayor. While I agree with her statements condemning Bryngelson and his actions, Mayor Mclean took it a few steps too far. To somehow indicate or imply there is a racist community living in the police department is stupid and insulting. To state we better not "Circle the wagons" is a ridiculous thing to say that only drives a wedge deeper into our relationship with the citizens we serve. Recent surveys show that our citizens give us a 95% satisfaction rate with the service we provide. That's pretty good in my opinion. But the political grandstanding continues.
Mayor Mclean has indicated she wants to have a third party investigate us, as far as I'm concerned, we welcome that. We love transparency. I'm not sure I can say the same for Mayor Mclean. We have yet to learn who conducted the third party investigation into Chief Lee and we certainly know that City Hall did a horrible job taking our legitimate complaints about Chief Lee very seriously. Transparency certainly wasn't the word of the day in that case. As a matter of fact, the OPA report still hasn't been released despite city ordinance requiring it to be publicly posted. So I don't have a lot of faith in City Hall and Mayor Mclean, it looks like she is more interested in distracting from her failures by casting doubt on what is truly an excellent police department.
I'm not looking to pick a fight or get into a back and forth with anyone and I'm sure people will disagree with some of the things I've said. I'm ok with that. I will say this city is our home and we truly love to serve our community as professionally and fairly as possible. We will always condemn any hatred, racism and bigotry to the fullest extent possible. That is one thing that will never change.

Tuesday, November 22nd
The GUARDIAN has been silent for several weeks because there is not much to write about that isn't depressing.
This posting probably is no exception, but we feel compelled to offer a slant that seems to be overlooked by some legacy media.
Former Boise Police captain Matt Bryngelson touched off a firestorm when he became a poster child for a racist group based in Tennessee following his August retirement.
In the midst of contract negotiations with the police union, Mayor Lauren McLean made a statement condemning racist attitudes and launched an "independent investigation" into the Boise PD. She has apparently hired an outside investigator to handle the probe.
Here is what we know:
The revelation that Bryngelson had connections to the racist group took about everyone–especially members of Boise PD–by surprise. The GUARDIAN talked to former chiefs, union members, and others who all professed to have been "blindsided" and repulsed by what has been revealed.
There seems to be major concern that the mayor has ignored the recently created OFFICE OF POLICE ACCOUNTABILITY for the second time in recent months.
Previously she had been advised to place former Chief Ryan Lee on admin leave during an investigation into Lee's use of force during a training incident that caused injury to an officer. She refused the advice, but later ended up terminating Lee. Bryngelson was one of the officers who had filed complaints against Lee.
The GUARDIAN can't help but agree with BPD officers who note the alleged racist activity of Bryngelson should be of no concern to Boise officials since he is no longer a member of the department. From what we have seen, his public comments are despicable, but protected by the First Amendment right to free speech. In short, with no prior complaint and the fact he is not a public employee, there seems to be little cause to launch an investigation. Free speech, no matter how vile, is not a crime.

Thursday, October 20th
BOISEDEV has an excellent report with preliminary details of MICRON'S proposed expansion which will rival the Pentagon in size.
While some may see the expansion as a coup for Boise, the GUARDIAN fears the expansion and all it will entail will change the culture and character of our beloved city and state.


There are many aspects of the project that concern us. They include cost of infrastructure to residents while the chip making giant gets all sorts of tax "incentives." Then there are issues of water, power, traffic, costs for police and fire, which are glibly addressed by Micron with no mention of who will provide the money for all that is required.
If Micron paid their fair share of taxes based on the touted $15 BILLION value of the project, their annual tax bill would be something close to $135,000,000. That calculation comes from a combined projected 2022 levy rate of .09% for city, county, schools, ACHD, etc. The firm has numerous tax concessions and limits which were passed by the Idaho legislature. Granted, if they were included in the tax equation, the levy rate would likely be lower.
Sadly, it appears to us that state and local government is quickly getting in so deep it will be impossible to say NO to any of the concessions sought by Micron. Simply put, it is too much in one place which will give the company untold power and authority over the lives and lifestyle of those who live here.

Friday, September 23rd
By DAVID R. FRAZIER, editor
Boise Police Chief Ryan Lee was relieved of his duties Friday by Mayor Lauren McLean amid unrest from the police union, investigative news reports from several legacy media agencies, a potential lawsuit from an injured officer, which included a criminal investigation into his personal actions.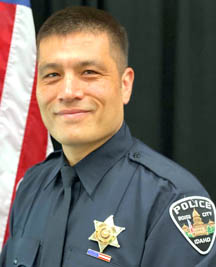 According to reports, Lee will be on "paid leave" until October 14, but former Assistant Chief Ron Winegar has already been named acting chief.
Lee hired several "command staff" from Portland–his former place of employment. He also brought in commanders from the Bay Area of California. Put bluntly, the department is in disarray and veteran captains and officers have retired early, quit to work for lower wages at other agencies, and even spent huge sums to qualify for the state PERSI retirement program.
Rather than list the litany of complaints and incidents alleged against Lee, the GUARDIAN will once again renew our plea for a citizen advisory police commission and offer insight and opinions garnered over more than 50 years of intense contact and scrutiny with Boise PD. We have met frequently over the years with officers and the chiefs to share views on behalf of the citizens of Boise.
Here are some points that should be followed in any future hiring decisions.
–The citizens of Boise need to be represented with a police commission comprised along the same organizational lines as the airport, park, P&Z, Library, Public Works, commissions. BPD is the single biggest consumer of tax dollars and citizens have no formal voice in the operation or budget decisions. We deserve better. Even the U.S. Department of Defense is managed by civilians with a staff of military experts.
–The mayor and council have forgotten the citizens when it comes to policing. They talk with the union (including Friday prior to firing the chief), but they seem to forget the citizens. The union deserves to be in the equation, but it appears they are driving the decision process.
–Today's police executive needs to be capable of managing a budget in excess of nearly $80 million. Duties include fleet management, personnel and legal issues, training, site selection, politics, community relations, etc. In short: there are not many coppers who are qualified to run an $80 million corporation.
–A new police chief needs to reflect the values of the community, so we are not enthusiastic about a "nationwide search" for a new chief. Likewise, there are many pitfalls in promoting from within because friendships and biases can interfere.
–An executive with Boise or Idaho ties would be ideal. In short: a police chief can be a civilian manager with a staff of expert coppers in the command staff. Former U.S. Senator Frank Church who was chairman of the Foreign Relations Committee once told me, "About anyone can decide most foreign policy, BUT it takes an expert to implement it." We have similar views on a new police chief. We need someone who understands the needs of the officers AND the public, not necessarily a gun toting copper who is at the end of his career.
Frazier is a 54 year resident of Boise. He was the police beat reporter for the Statesman, a police officer, and state of Idaho Law Enforcement Planning Commissioner.