Guardian Top Stories

Monday, August 8th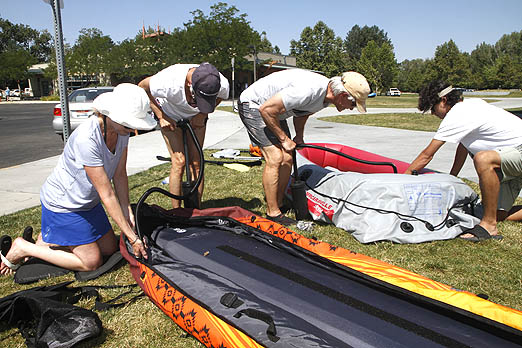 Officials at Boise and Ada County are at odds over inflation at Barber Park. Not financial or taxes, but air pressure.
Several Boise Councilors have had informal meets with Ada Commishes and County Park board members regarding the plug being pulled on free compressors three years ago at Barber Park.
Boise contends tubers and rafters unwilling to use "arm strong" hand pumps to inflate their water craft are trespassing in nearby Harris Ranch subdivision and poaching power from unsuspecting resident's electrical outlets.
Ada justified cutting the air flow as a COVID-19 precaution, citing crowding at the "pressure point."
HISTORY
Back when there were gas stations selling tires, folks would pay $1 or two and get an old inner tube to float the river. At least one tube was often reserved for beer and sodas. Parking was free in the grass and brush under the cottonwood trees and folks helped each other navigate the float to Ann Morrison Park. There was no Barber Park in those days.
Then along came well-intended Ada Commishes. They developed the park and not missing the chance to expand THEIR reach, Boise Councilors annexed all around the County Park, encouraging development and increased population.
Boise coppers lobbied the legislature to obtain jurisdiction over the beer and river. Prior to the adoption of city jurisdiction, waterways–even within a city–were governed by the local county sheriff and the state.
The county has joined the cash flow created by the river current, licensing vendors for rafts, tubes, buses, and snacks, BUT no air.
TODAY
Boise coppers are faced with citizen complaints of power poachers, illegal parking, and other annoyances. The Boise Fire Department saves lives almost daily using expensive jet boats and water skis.
The GUARDIAN has talked with officials of both the city and the county. The county says they have no plans to pressurize the air compressors. They say the park use is enhanced without the pressure of air. The city says free air would eliminate the parking and residential trespassing, even encourage safer water craft instead of flimsy plastic inflatables. Plenty of hot air!

Monday, August 1st
If a recent campaign funds solicitation is any indication, it looks like Scott Bedke is running for Boise mayor against Lauren McLean. It isn't clear just what he will do to stop McLean or what she will do to hurt the office of Lt. Gov.
Here is a copy of what he sent to potential donors with no mention that current Lt. Gov. Janice McGeachin has spent most of the office's budget appropriation. He includes a stern warning about what happened to Colorado…whatever that may have been.
HEADS UP!
Have you seen what's happening in our capital city? Their mayor and city council recently passed multiple resolutions that will send Boise down the same path as Portland and Seattle.
A new resolution blocks the Boise Police Department from investigating violations of Idaho's abortion law. MayorMcLean's allies on the Boise City Council also want to infringe on your 2nd Amendment rights, through universal background checks and Red Flag laws. If the message was not clear, they also told Congress to block sales of semi-automatic guns.
We should not be surprised…
Directly after taking office, Mayor McLean released her progressive agenda, which among other items, called to provide free contraception, abortion, and reproductive health care, as well as a number of red-tape regulations for law enforcement officers. The mayor also wanted free internet city-wide and classes on white fragility, but who cares about the cost of funding those programs…especially with Bidenflation, right?
These programs have the full support of my opponent. If Republicans don't band together, Democrats will attempt to force these issues on all Idahoans. If you're not worried, look at what happened to Colorado and is happening in other states.
If you want leaders who fight to uphold Idaho's laws and its Constitution, donate to my campaign for Lieutenant Governor. Under my leadership, I've always lived within the taxpayers' means, always defended the Constitution, and always fought to protect the Idaho Way!
Will you help me protect Idaho?
Sincerely,
Scott Bedke


Wednesday, July 20th
We don't normally cover traffic accidents, especially in Southern Idaho, but this press release from Idaho State Police reads like a script made-for-TV drama.
IDAHO STATE POLICE NEWS RELEASE
At about 6:30 a.m. on Saturday, July 16th, an Idaho State Police trooper was dispatched to a reported hit and run collision near milepost 204 on I-84 in Minidoka County, Idaho. The trooper was advised that a 2006 Toyota Sequoia collided with a 2008 Ford F-350 pickup.
Additional information indicated that the Sequoia driver ran from the scene but soon thereafter returned and attempted to steal the F-350. When the pickup driver refused to hand over his keys, the suspect poured gasoline on the F-350 and set it on fire. When a passerby in a GMC Sierra stopped to help extinguish the flames, the suspect stole his vehicle. The suspect, driving the stolen Sierra, struck the passerby while fleeing the scene.
A Heyburn Police officer responding to the incident attempted using spike strips on the Sierra, but the suspect avoided the strips and continued driving. The Heyburn officer pursued the Sierra, which exited the freeway. Once off the freeway, the suspect maneuvered the Sierra and intentionally collided with the Heyburn Police vehicle, a 2013 Ford Taurus.
Both vehicles were damaged and stopped. The officer contacted the suspect as he exited the Sierra and unsuccessfully attempted a Taser application (shot and shock). The suspect stole the police vehicle and tried to run over the officer. The officer fired multiple shots into the police vehicle, striking the suspect as he drove away.
About a mile later, the police vehicle became inoperable due to damage sustained during the collision and the suspect ran into a cornfield. Officers located the empty vehicle and contained the area. A police K-9 was deployed and located (bit) the suspect nearby.
The suspect, a 39-year-old male from Kemmerer, WY, was taken into custody without further incident. He was transported to the Minidoka Memorial Hospital for a gunshot wound and K-9 "contact injuries." (bites and scratches?) The suspect was medically cleared and booked into the Mini-Cassia Criminal Justice Center on probable cause for arson (I.C. 18-802) for lighting the F-350 on fire, grand theft (I.C. 18-2407(b)(1) for stealing the Sierra, a second count of grand theft for stealing the Heyburn Police vehicle, and aggravated battery (I.C. 18-907(1)(b) for striking the driver of the Sierra with the Sierra.
He was also charged with aggravated battery on a law enforcement officer (I.C. 18-915) for using the stolen Sierra to crash into the Heyburn Police vehicle, as well as a count of aggravated assault on a law enforcement officer (I.C. 18-915) for attempting to run over the Heyburn Police officer. He was later issued additional citations for reckless driving, leaving the scene of a property damage crash, and failure to wear a safety restraint.
The injuries to the suspect were considered non-life threatening and he remains in jail. No medical update is available.
No injuries were reported by the involved Heyburn Police officer, an 8-year veteran. He is on administrative leave per Heyburn City policy.
The driver of the GMC Sierra, a 42-year-old Ammon, ID man, was transported to a local hospital with non-life-threatening injuries. There is no update on his medical condition. The Sierra sustained extensive damage when it collided with the Heyburn Police vehicle.
The driver of the burned Ford F-350 involved in the original collision, a 43-year-old male from Twin Falls, was not injured during the incident.
It is unknown why the incident occurred, and detectives continue investigating. Additional charges may be forwarded to the Prosecutor's Office.
The Critical Incident Task Force (CITF) is conducting the investigation. CITF is a team of investigators and professional staff from the Idaho State Police and local law enforcement agencies who provide investigative and other assistance to law enforcement agencies in police use of force and other critical incidents. The CITF works with the local Prosecutor's Office for review of completed investigations.

Monday, July 18th
Fire broke out about 1:30 p.m. Monday at the Idaho Youth Ranch warehouse on Irving Street, pouring thick black smoke into the sky visible for miles.
The GUARDIAN had just finished lunch nearby and responded to the fire long before Boise Fire units arrived. It turned out to be at least a three alarm fire with 3 battalion chiefs, 3 ladder trucks, 9 engines, and assorted support vehicles on scene.
Here are exclusive GUARDIAN photos.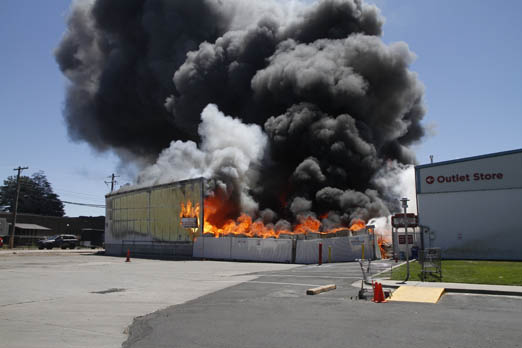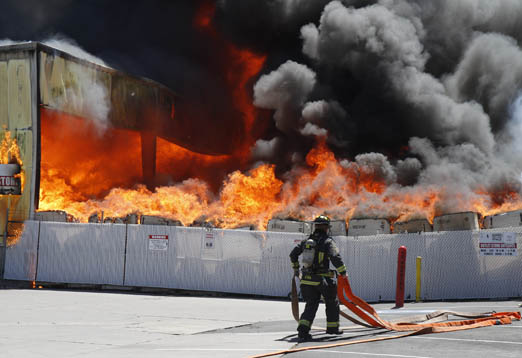 High ambient temperatures as well as the intense heat from the fire caused firefighters to rotate assignments and "rehab" to prevent heat stroke. There were at least three Ada County EMS ambulances on scene, but no injuries were reported so far.

Tuesday, July 12th
By DAVID KLINGER
Boise's "growth tsunami" continues unabated. And while realtors and chamber of commerce boosters breathlessly extol the virtues of this unique and lovely community, they're short on providing newcomers with a handy list of 10 tips to ease their personal transition to their new home — a place that's under severe stress at the moment from the continued pangs of unbridled change and in-migration.
So here are my "Top 10" tips, learned from experience when I came to Boise from rural West Virginia a decade ago. I've practiced them, and they've served me fairly well. I've tried to follow them daily. Hopefully, they'll serve you equally well in 2022:

–Pick up your dog crap. It's not neighborly to leave "calling cards" of varying amounts and consistencies throughout the neighborhood. And that means carrying the poop bag out with you, not leaving it on any convenient doorstep.
–Swap your California or Oregon license plates for Idaho tags … promptly. It's the law. It's also just good form. Starting to pay the taxes to cope with the infrastructure demands your arrival has caused is only fair. Not doing so is a deliberate "eye-poke" to the community. It marks you as not caring.
–Know and respect your neighbors. In mega-states with tens of millions of residents, like Texas and Florida and California, it's possible to live an anonymous and detached life. Not here. We have barely 1.8 million people. It's your job as a new resident to get to know most of them, on a first-name basis.
–Recycle those glossy, granite countertop "Boise lifestyle" magazines from realtors that lured you here. They're no more reflective of this place than fantasy comic books.
–Remember that while you are busy living a lifestyle, others are simply just trying to live a life. Those shelf-stockers, field pickers, and dirt farmers are the ones who make your tenancy here possible. Understand that they are the ones who are getting unfairly priced out of a city now on growth steroids.
–While you may have just moved in, know and respect that others have been here their entire lives. Their pioneering families may have lived here since Idaho first became a state. History didn't begin with your arrival.


–Humanize your driving habits. You no longer have a 4-hour daily commute to Bellevue or Marina del Rey. Slow down through the neighborhoods, cool it with the "rolling stops", and yield to people in the crosswalks instead of flipping them off. There's no place in Idaho that you need to be that's that important.
–Fully assume your new Idaho citizenship. Vote, read the newspaper, and take an active interest in what local government is doing. In California, you were just one of 40 million people. Here, it's possible to be on a first-name basis with the Governor and the Mayor.
–Remember that worth in Idaho is traditionally not determined by the glitz of your house, the cost of your car, or the heft of your bank balance. Here, where your word is your bond, you look people in the eye, keep your word, help others, and treat the place with respect. Adjust to "western" … not "West Coast" … behavior.
–Appreciate all of the good qualities of this place. Work to conserve and protect them for they will be gone soon enough.