Federal Government
Idaho Does Not Deserve Craig
If having the Broncos on ESPN is worth "thousands in publicity for Idaho" and promoting Boise in the United Airlines magazine is worth more than half a million dollars, we wonder how much Larry Craig's antics has COST…probably a lot more than all the "positives."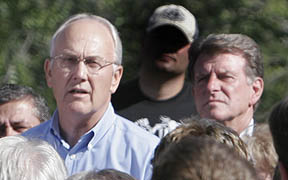 The poetic justice comes in the half million dollars the big business and rich people paid Craig to vote to their benefit. That investment has turned out to be as valuable as shares in Micron or Enron. And just like those "leaders," Larry keeps the money for himself.
Then there is junior senator Mike Crapo who loves to publicly support fallen heroes and convicted politicians. When former mayor Brent Coles was sentenced for his crimes against the people, Crapo tried to influence the judge with a complimentary letter on United States Senate letterhead.
Now Junior "fully supports" Craig's most recent flip flop (mostly flop) to stay in office after pleading guilty to whatever he did in the toilet in Minneapolis. A noncommittal statement is one thing, but to EMBRACE (pun intended) a guy who admits guilt and can't get his story straight–even to the public–is another thing.
The only ray of hope we see in the Craig mess is Guv Butch sharing a bit of his advice to Craig which was basically, "Larry, you should go, but the decision is yours."
Craig brought all this on himself–and Idaho–not just in the toilet, the courtroom, and the newspaper. It was Craig who stood at the Depot with what has turned out to be a motley crew and pronounced his own political death.
When he called the media to his "intention" speech, he said Idahoans don't need a senator distracted by legal matters, but rather we deserve a senator who can devote his full attention to the business of Idaho and the senate.
We agree. We don't deserve Larry Craig.