Interesting Stuff
Summer Musings Take 3
Gas crunch. What gas crunch?
Last weeks's day job trek to Yellowstone found the GUARDIAN pondering the effects of high gas prices, the economy in general and the role Yellowstone and the West play in the lives of those who don't live here.


The couple in the little ultra tiny Smart Car with Illinois plates had to really love each other or have alzheimers to ride more than 4,000 miles–albeit at some astronomical mpg–confined in a space the size of a Larry Craig toilet stall. They were part of the endless stream of visitors entering and exiting the nation's first national park at West Yellowstone. A cheap "mom and pop" motel room where you park at the front door cost us $109. Everything within the park was booked full.
We saw gas as high as $4.36 and as low as $4.09 during the loop from Boise through the parks and back. The Eastern Idaho stations sell a low grade 85 octane as "regular." No shortage of gas or customers.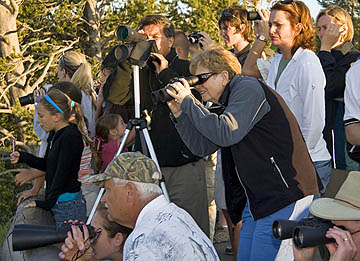 A lone coyote was cause for a major traffic jam as tourists "cried wolf" and jumped out to take photos. The biggest chuckle came in the Hayden Valley east of Yellowstone Lake where visitors crowded together to watch a herd of elk through binoculars and spotting scopes at dusk. One excited woman exclaimed, "I have never seen a moose before." She still hasn't seen one.