City Government
Homeless-No Solution, No End
FROM POET PAUL–
Homeless have decided to sue
These folks haven't a place to sleep
From he City we get nary a peep
It's objectionable to some
No matter where from
But there's a difference
Between Homeless and Bum
As we travel around Boise these days, it seems like every corner–and every supermarket–has a homeless person or team panhandling. It is a problem that won't go away soon.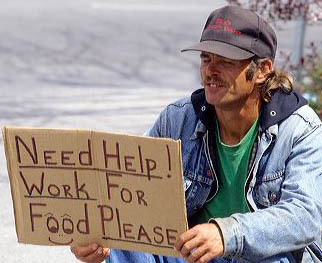 As the economy continues to founder, we can anticipate more "Hoovervilles"–those hobo villages of the 1930's depression. The only difference is they have moved to urban areas for the most part. Wal-Mart once allowed overnighters in remote areas of parking lots, but they no longer permit the practice.
Boise City Council clarified the city "Camping" law Tuesday saying it is illegal to use "any public property as a residence." It did nothing to solve the underlying problem.
Coppers have a little wiggle room when they run across homeless people sleeping in their cars and campers on city streets…what constitutes residence? Apart from the sanitation and litter issues, businesses feel threatened with disheveled people and vehicles parked near their establishments.
If the coppers write tickets, impound cars, or arrest these unfortunate souls it serves only to make them more destitute paying fines, towing fees, and storage bills which they can ill afford. On the other hand, when mothers complain of homeless people in parks making them "uncomfortable" and often as not breaking some minor rule, they are forced to act.
Reports from homeless people we have talked to say for the most part the cops are cool. One guy told us of a copper giving him a push in his car which had stalled in the street last Christmas and later checked on his welfare where he had parked (camped).
There are charity based homeless shelters in the River Street area of the city, but there is only so much they can offer. Some people are homeless by choice while others suffer from substance abuse, mental and physical disabilities, and just plain bad luck.
We certainly don't know the solution, but it is a growing problem that can't be solved by passing more laws.