Business
Gateway West Power Line Will Dominate Future News Of The West
GUARDIAN editor Dave Frazier toured the coal fields of Wyoming this summer as part of the day job at his DRFPHOTO.COM His observations in photos and words. ALL PHOTOS AND TEXT COPYRIGHT DAVID R. FRAZIER
It falls under the name of "Gateway West, but the issue is electricity, who wants it, who can sell it, and who doesn't want it in their backyard.
The thousand-mile transmission project that would stretch across Wyoming and southern Idaho remains under review by the U.S. Bureau of Land Management. Proposed by Idaho Power and Rocky Mountain Power, its necessity would be determined by the Idaho Public Utilities Commission if it earns BLM approval, possible by June 2013.Right now it isn't popular in places like BURLEY.
The battle lines are being established before the power lines in what will probably be the next major environmental issue facing Idaho and Wyoming.


The players come from the usual greenies and conservative business camps, but their positions are yet to be spelled out. At the center of the issue is Wyoming Coal. Some producers claim the state has 800 years of reserves and they are doing their best to dig it out and sell the black rocks to electrical generators.
There has been a big discussion about building a port facility at Bellingham, Washington to export coal to China, but the greenies don't like the environmental impacts and the conservatives hate to see USA resources exported to China only to return as computers and televisions–thanks to cheap electricity.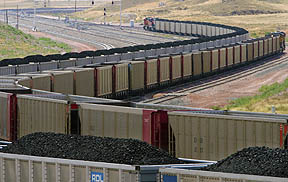 After years of sending massive "unit trains" laden only with coal to the far reaches of the USA from Gilette, Wyoming, things like the Gateway West project could see producers exporting electricity over gigantic power grids…the idea being it is easier to sell ready-made power than getting permits to build "clean burning" coal plants.
Coal means jobs in Wyoming, so politically it is easier to build coal-fired plants in that sparsely populated state than in the metro areas that consume the power.


Some say the power lines are only for the benefit of big business to sell to the massive consumers in the Southwest areas of Las Vegas and Los Angeles. Others say it will mean jobs and economic growth in Boise. Still others don't object as long as the lines don't cross their land or scenic vistas.