City Government
Library Not Being "Run By The Book?"
Seems there is unrest at the Boise Public Library, given the reports filtering into the GUARDIAN.
While we aren't ready to declare things aren't being "run by the book," some recent personnel actions certainly have caused some staffers to question what pages management may be reading. Consider this: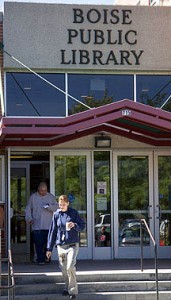 "Recently, Boise Public Library administration internally hand-picked two men who do not have Masters of Library Science degrees to be promoted to librarian positions. A third male librarian was hand-picked to be a branch director. More concerning, the two highest-paid women at Boise Public Library lost their jobs when their positions were eliminated due to budget cuts. Coincidence? I think not."

We did some "corroborating" from other sources and got an earful. The morale problems could go well beyond allegations of sexism. Consider this from a well informed source: "In past years the Library developed, with the approval of the Board of Directors a plan for laying off staff in times of financial exigency. This plan has not been followed in these instances and some of the staff fear for their own job-future if they question why it has not been used. The plan was developed several years ago and not all staff is aware of it."
Another comment characterized the director as, "arbitrary and inflexible." This kind of unrest needs intervention from the top down and should not be festering. The mayor and council need to have a chat with the director and discreetly with some staff. IF he is out of line, they need to tell him so and if not, they need to make their views known to the library staff and the public.
Staffers at several city departments have been cautioned about "airing dirty laundry" at the GUARDIAN. When these public servants fear for their jobs and management hides behind "personnel action" claims, about the only way citizens AND candidates for City Council can get the word is on this blog–for better or worse.
When city workers have complaints about department heads, they have a right to be heard without fear of termination or demotion.