Education
A Matter of Perspective
We Boise folks need to get a life and cease this preoccupation with our position in so-called "National Magazine" lists and rankings.
The silliness reached its peak when Timberline High was proudly proclaimed to rank #1,000 on a NEWSWEEK Magazine list. Boise High was apparently 605 levels higher than Timberline at #395. What does this mean? Nothing at all.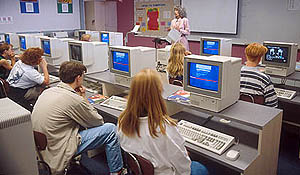 The school story surveyed 27,468 schools. That means 13,733 were "above average" and 2,746 were in the top 10%. Imagine how many front pages are filled today with this made up story throughout the country.
We love our city, kids, schools and little puppies, but let's get real! The same edition of the STATESMAN (idahostatesman.com) that featured the NEWSWEEK school rankings on the front page had cries from readers on the editorial page to boycott the same magazine for irresponsible and inaccurate reporting about incidents connected with prisoners at Guantanamo Bay, Cuba. Is it a great publication only when it says nice things about Boise?
Local media is lazy in its reporting and relies on front page stories about what ANOTHER publication has reported–usually merely a survey or list. Made up magazine lists are aimed at getting readers and publicity. Boise is so enamored with rankings, the City's official web site promotes magazines with favorable rankings of our town.
Let's hope we don't see or hear another story soon about "Top": business city, retirement city, small college, kayak river, hospital, festival for bus riders, end of road top 10, or ski hills.
The City of Eagle was "selected" as one of the "Best Managed Small Towns in America" but the honor lost some of its honor when it was revealed the city actually paid for the award.
In mid-May 2005 A national organization called CFED (Corporation for Enterprise Development) cfed.org conducted a national survey aimed at warming the hearts of Idaho Economic Development folks. The group gave Idaho an "A" for the state's business development!
Then those "uncaring, uninformed, biased, eastern establishment liberals" had the guts to give us an "F" in health care. While that wound was open they rubbed plenty of salt in it by ranking Idaho as 51st in health care. Worse than even the District of Columbia in our care of citizens! Dead last! See if we ever again buy anything from CFED or read their drivel.
Our last elected Boise mayor was President of the U.S. Conference of Mayors and now the city doesn't even belong to the group. Interesting how things change with… PERSPECTIVE!