Growth
Stop This Insanity Now!
Kuna has run out of sewer capacity, Meridian has run out of classrooms, Eagle Road is a parking lot, Boise needs code enforcement and all these cities battle one another to see who can grow the most and the fastest.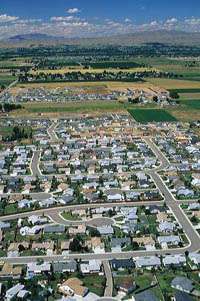 Then they all want to get together and pay big bucks to "consultants" who will tell us all how to "manage growth." It's simple folks: STOP EATING!
Somehow the cities and counties of the Treasure Valley have all resigned themselves to certain "facts" which are not necessarily true like:
–You can't tell someone what to do with their property. UNTRUE–we have had zoning laws for years.
–People love it here, you can't stop them from coming. If they don't have a place to poop or a classroom for their kids, they won't love it so much.
–Increased tax base means more money for government services. It means more people and the problems they bring.
The unbridled growth we have experienced over the past 5 or 10 years will be the death of us all unless it is limited or stopped now.
When a farmer wants to rezone and subdivide his land, cities rush to annex it before their neighbors get that "valuable tax base". Cities all compete to see who can be the most "business friendly" and they eagerly welcome new companies to their towns…along with more traffic, children in schools, people pooping in the sewers, and all that goes with it.
And it is all justified with, "This is nothing you ought to see Los Angeles or Denver where we used to live." The create what they seek to flee. On a smaller scale those who flee Boise create the same in Kuna.
Folks don't come to the Boise area for well engineered traffic signals, good code enforcement, high density in-fill, cops in every school. They come because it is cheap and there is plenty of OPEN SPACE! You don't see brochures and web sites with pictures like those with this article. You seldom hear anyone say, "I wish my neighbors were 12 feet closer and the street was 8 feet narrower, and there were 10 more kids in my son's classroom."
Here are some quick solutions:
–IMPACT FEES–charge up to $15,000 per house and much more for businesses to even build a structure.
–Make no changes to current zoning and allow no "variances" for two years.
–Let infrastructure and services catch up with current demands before adding any new demands.
–In short, make growth pay, or don't grow. That will slow things a bit and also relieve some of the growing pains.
–Either build some high volume roads or require people to live where they work. Creating low paying jobs along with high value residences spells disaster. Worker bees fly west after work and east to the hive every day.
We have built a local economy based on expansion. The farmer, developer, contractor, supplier, banker, landscaper, and government all benefit from this insane growth, but it cannot go on forever. When the boom turns to bust, these folks will move on to the next gold rush and leave a tattered ruins behind.
We need a "time out" so we can catch or collective breath.