Business
Give Me More, Give Me Bigger!!
Like the odor from the sugar factory and feedlots, we have become inured (for you non-library types that's "accustomed to something unpleasant") to the effects of growth in Idaho.
Easy to sound like an old fart that wants to return to the "good old days" on this issue, but folks we are assaulted daily with announcements of new developments which–no other way to say it–DEGRADE OUR QUALITY OF LIFE.
Here a few from the mainstream media of the past few days:
–Developers plan 473 homes and a convention center at Garden Valley smack dab in the middle of a cattle ranch pasture. Say so long to the deer and elk at South Fork Landing.
–Tamarack sells $129 million worth of condos in a retail development on West Mountain near Cascade. Meanwhile the state is dealing with the feds to trade 18 square miles of Boise National Forest land so Tamarack will have a better chance at using even more public lands for the French and Mexican developers who are selling to big money out of staters, further reducing deer and wildlife habitat.

–Arizona Developer Sun Cor is nearing approval from Ada County to populate the foothills with up to 30,000 nature loving people at Spring Valley Ranch along Highway 55 on and around Horseshoe Bend Hill. Deer can take another hike.
–There is a "planned development" (love that term) called Hammer Flats stirring above Lucky Peak Dam. Screw the damn deer!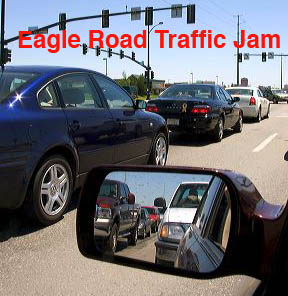 –Kohls department store is seeking to put up a 96,000 square foot retail outlet at Utstick and Eagle Road. Meridian politicians will be hard pressed to turn it down since taxes are predicted to be $100,000 a year. Like we need more traffic on the busiest road in Idaho!
–Two gas fired electricity power plants are up for approval in Southeast Boise.
–A giant coal fired plant is on the application trail at Jerome. This is a biggie and while the tributary stream media in the Sun Valley area have covered it along with the small stream Times-News in Twin Falls, we have, seen nothing from the main stream Idaho Statesman or Boise TV stations. The application is currently before state regulatory agencies and is moving ahead with little public scrutiny thanks to a lazy press. The applicant, Sempra, is a California firm and apparently the power is destined for the Golden State as well. Talk about Californicate!
All this is just in the past week or so! These things have a common underlying sinister thread: Since nearly two-thirds of Idaho land is government owned, that means 100% of the people have to live on 33% of the land. Very little room to "spread out" upon. More people means more demand for electricity, roads, water, sewer.
Net effect is when population doubles we simply get squeezed tighter. On paper Idaho appears to be "sparsely populated," but when you consider ALL our population is jammed into relatively small areas which total only one-third of the state, we are just like suburban California or the crowded Eastern Seaboard. Not a pretty thought to many of us.
Developers are learning the secret Idaho ranchers knew for years–the easiest way to use and control government land is to own some private land next door. That way you can get cheap leases and not be constrained to the measly one-third of the state that is private.
Meanwhile Bambi has a smaller and smaller back yard in which to play.
Ed note: The GUARDIAN does not have a position on the power plants, but we offer a link to a site that is AGAINST it as a reader service. If there is a "pro" site we will link to that as well.
http://nocoalforidaho.org/