Business
Corporate Welfare Proposal
We thought Rep. Jana Kemp's silly bill to give Idaho tax breaks to Hollywood
was over the top. Now Doc Kustra at Boise State and his richie pals have rivaled the Big Screen Folks.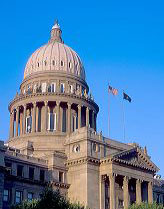 If our legislature has any backbone at all they will reject all new tax breaks during the upcoming session–including this scheme. The reward for investing is sharing the profits. If it isn't a good investment, don 't make the citizens share the risk unless we also share the profits!
Kustra is among a group described by the Idaho Statesman as the state's "most influential business executives and university leaders" who are on one of those task forces Gov. Dirk likes to promote. These guys are looking for even more tax breaks for big business than they already have.
They come from companies like Qwest, Micron, INL (used to be AEC, INEL, INEEL) as well as BSU, U of I, and ISU. Their scam is to get tax incentives to the tune of 30% tax credit over three years for people who "invest in start up companies." If we understand the tax law, that means for every $1 million invested they want $300,000 off the bottom line of their tax bill.
Guess who invests in small start up companies? People with MONEY! They can afford to pay taxes just like the rest of us working stiffs. Guess who owns the most shares of these companies? People with MONEY. These "start ups" could easily be the big firms looking for tax breaks by spinning off "start ups." Duh!
The GUARDIAN has a solution.
Give these companies the tax breaks in direct proportion to the funds expended for higher education. If a company gets a $75,000 tax break, just scratch one professor from the staff at a university. After all these new companies will hire workers who will pay taxes which will (probably, maybe, possibly, sort of) make up for the money lost ot the general fund through the tax breaks. They can hire the prof back later or give him a job working the 12 hour shift at the new start up and pay him with stock options.
There is another solution that combines socialism and capitalism. Think of the tax incentives as "shares." Set an initial stock offering price and give the "people of Idaho" the shares based on the amount of tax incentives offered. That way there is a true incentive to make the new ventures succeed. Otherwise we might as well give tax breaks for gambling trips to Jackpot, Nevada.