Education
Dump on Dirk
Legislative season brings out all the kooks with weird ideas and it looks like Gov. Dirk is doing his best to lead the pack. No other way to put it folks, we are being deluged with bad ideas.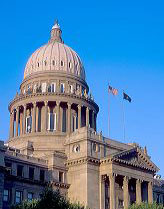 –Gov Dirk wants to buy about $2 million worth of bare ground around the J.R. Simplot "free" governor's mansion, noting that if the state doesn't buy the land it will be developed full of houses–this from the guy who encourages people and businesses to move to Idaho, but NOT IN MY BACK YARD!
–Statesman headline proclaims "Parks plan could boost Idaho tourism." Gov Dirk wants to put $34 million into something dubbed "Experience Idaho Initiative." Does he envision an autoworker in Detroit opening a magazine and saying, "Look Lucy! They have six state parks in Idaho. Let's load up the kids and go boost tourism!" State parks are nice, they need to be maintained, enjoyed, and perhaps even expanded. They will NOT boost tourism.
–Property taxes are a "local issue" according to Gov Dirk and he sees no reason for the state to get involved in any type of tax relief for property owners…he just wants to keep adding to the growth that causes the problem and continue to pay $5 a year for his own Valley County land tax.
–Every man woman and child in the state will get $50 for "heating bills" under a Gov Dirk proposal? The guy with the sign at the supermarket parking lot offering to work for food can make that in a good afternoon.
–Idaho is at the top of the list for new job s created and places to locate your business, but at the bottom in wages. Duh! Welcome to the new China—low cost labor and a middle class willing to subsidize big business. Oh, did we mention Idaho is one of the worst states in the country for emergency medical care?
–Dr. Bob at BSU wants a a community college in Boise (isn't that what Boise Junior College was?) for a start up cost of $5 million in state funds. The kicker is that local counties would pay up to $3,000 per student to the state (BSU) while they attend the community college. It doesn't take a political science prof to tell you the counties will not be donating to BSU when Gov Dirk won't help out on property tax relief!
–Then there is legislator Bob Geddes' plan to solve the overcrowding problem in Idaho prisons with a "night shift" plan where prisoners would share beds. Isn't that the way it works now anyway? He thinks double bunking would be a good idea!! Not only will it take twice as much prison staff, EVERYONE will have to register and have their picture on the sheriff's website.