Environment
Economics of Wolves
Elk herds have a way of growing too large when the majestic mammals are not hunted or reduced by meat-eating predators like wolves. In some areas it is difficult to maintain elk herd numbers.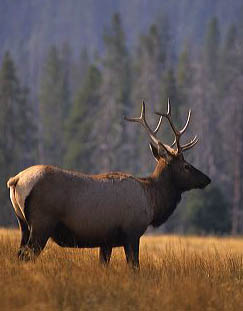 In Idaho, wolves have been successfully introduced and they love elk steak. Hence they efficiently reduce the size of elk herds–too efficiently in the Lolo wilderness panhandle, according to Idaho Fish and Game wildlife managers.
Why not just let the wolves "naturally" reduce the elk herds? The simple answer is wolves don't PAY TO HUNT!
Wolves wouldn't accidentally shoot other hunters, there wouldn't be as many divorces, people wouldn't have to call in sick when they were really hunting, there wouldn't be so many searches for lost hunters, and there would be fewer gas guzzling 4WD pick ups on the road.
The GUARDIAN realizes there is sound economic reasoning for killing wolves to protect the elk so we can charge hunters to kill the elk and make money for Idaho.
How about this money maker plan? SELL wolf hunting licenses to the highest bidder! The tourism promoters could run national ads in the outdoor magazines:
"DO YOUR PART TO SAVE IDAHO ELK!"
"For only $25,000 YOU could have a hunt of a lifetime. Join the manly few who have a chance to kill a wolf."
Wolf reintroduction worked well. Can we look toward wooly mammoths being cloned from the DNA found at Tolo Lake near Grangeville?