City Government
Library Plan Needs Refining
A GUARDIAN correspondent received a slick brochure urging residents to "Vote Yes for Boise's Library!"
The brochure is from "Great Libraries for Great Neighborhoods" and offers Shauneen Grange at 345-2125 as a contact.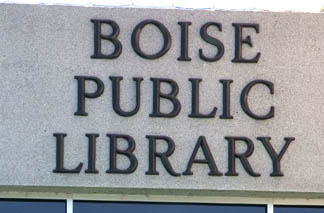 The GUARDIAN correspondent lives a good mile and a half from the Boise City Limit and cannot vote on the measure! We know the target lists are handled by zip code, but it points up both a problem and a solution on the library bond.
Rather than Boise going it alone for three libraries at $38 million and not having the cash to fund the operations and salaries, how about having a countywide library system? That would sure cut the hassles of determining who has pirvileges and who pays. There are agreements in place that have Boise PAYING other municipalities for service to Boise residents, but Boise loans its materials for free via interlibrary agreements. Boise offers FREE service to BSU students, but BSU won't reciprocate with Boise. As the Brits would say, "It makes a lot of nonsense."
If this bond fails, we would like to see it come back as a countywide system. The city pushes regional planning for transportation, blueprint for growth, smart growth, etc. They should be consistant and go for a county library.
It makes even more sense when you realize Boise School District kids live outside Boise and Meridian Students live inside Boise. Dump the borders, pool the cash and have a county library…we ALL live in Ada County.
The Sunday Idaho Statesman had a great front page and two page inside spread on the library bond. We disagree with their editorial, but the Brad Hem reporting was top rate and deserves a read if you care one way or the other.
One thing the Statesman story pointed out was that Boise has fewer library USERS than our neighbors in the Northwest. That can be seen as a lack of facilities means fewer users or lack of users means no demand for facilities.
Conservative anti bonder Jim Auld didn't make many friends when he declared that libraries are a "thing of the past." There are those who would say the statement shows WHY libraries are needed.
Truth is, libraries have indeed evolved–into refuges for the homeless, internet computer access points, and sources for free artwork and videos. They also offer some good reading in the form of books.