City Government
Beware Of Library Paybacks
As he left office, President Dwight Eisenhower warned of the "Military-Industrial Complex" that was getting a grip on our nation in the late 1950's.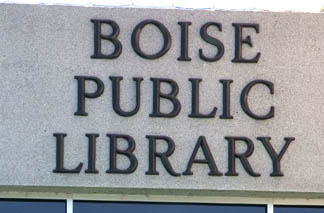 Today, after reading that businesses paid 95% of the funds raised to support the library bond, the GUARDIAN warns of the "Boise City-Developer Complex." These are all folks who benefit from more city employees and growth through approval of annexations, subdivisions, and big building projects. City officials are obviously partners with business over being partners with citizens.
Mayor Bieter told the Statesman, "you go where the money is and that is where it is." Can't argue with the good mayor on that. So far, less than $4,000 of the $73,000 raised has come from the "grassroots" individual donors.
The list of big donors includes banks, building contractors, utilities and city councilor campaign funds.
Regence Blue Shield–who would love to have the City's insurance contract–ponied up nearly three times as much as all of the private donors combined with $10,000.
Chamber of Commerce president Nancy Vannorsdel authored a gushy pro library bond opinion story in the Statesman.
Meanwhile Jim Auld's "Friends of Ada County Property Owners" have raised $5,676 for mailers and radio ads against the bond.
Based on what we have seen so far it appears there is no broad hue and cry for branch libraries. There seems to be a move on the part of Boise City to pass a bond and they are getting their friends in business to fund the effort.
Next Tuesday's election will provide the answer. From our perspective we see the political effort on the part of the City as inappropriate. We favor libraries, we favor bond elections, but we oppose attempts on the part of elected officials to influence the election results. Improved library service is a good cause, but this isn't the way to do it.
Schedule an election and stay out of it! No staffers on leave to push it, no campgain fund donations from mayor and council, no arm twisting of businesses with city ties. The mayor and council's ovezlealous desire to push an admirable cause has tainted the dignity of their offices.