Federal Government
Forget Free Speech
This is a disturbing story which should strike fear in the hearts of any patriotic American.
Before we stoop to terms like "jackbooted thugs, big brother, Gestapo, Nazi, KGB," and all those other hot-button inflammatory terms, here are the facts as we know them now.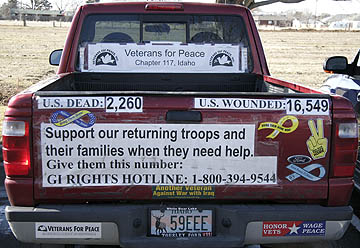 Dwight Scarbrough is a liberal patriot, anti war, fiercely independent, military veteran, peacenik who wears his feelings in the form of posters against the war in Iraq taped to the side of his Ford Ranger pick up. He is also a federal employee.
While Idaho National Guardsmen are ostensibly "defending democracy and free speech" in Iraq, Homeland Security Agents are working to take it away in Boise.
The BOISE WEEKLY. has a great story by reporter Nicholas Collias in the current issue detailing a frightening encounter Scarbrough had at his federal office on Overland Road near WalMart a week ago.
Homeland security agents called Scarbrough at his office and asked him to meet them in the parking lot by his truck which is festooned with the anti-war signs, bumper stickers and magnetic "support the troops" yellow ribbons.
Instead of being intimidated, Scarbrough brought along a colleague and a tape recorder. The agents ordered him to remove the signs or face prosecution. He ended up moving the vehicle for a day until a bunch of lawyers–alerted by the ACLU–jumped at the chance to represent him free of charge.
Marc Haws of the U.S. Attorney's Office told the GUARDIAN he could not comment on this case–no one has formally presented anything to him–but he explained it is illegal to post signs on federal property or facilities. He also acknowledged the HATCH ACT protects the rights of federal employes to have bumper stickers on private vehicles parked on federal parking lots.
Bottom line seems to be that size matters. There is no law defining what is too big to be protected by the Hatch Act. We hope this doesn't get as detailed as Boise's stripper ordinance.
Meanwhile the Boise office of Homeland Security sent us to a Public Affairs office in Dallas. That spokesman said the agency was awaiting a determination by the U.S. Attorney in Boise regarding the signs. When the GUARDIAN ventured this whole thing was pretty silly and was quickly deteriorating into a "size matters" case, he bristled a bit and explained the situation.
The concern among those protecting the homeland is that if the guy in Boise is allowed to have signs on his truck, other federal employes may be emboldened enough to place even bigger signs on their vehicles.
Imagine a federal parking lot full of vehicles covered with anti war signs. Free speech could ruin the country!