Growth
Greedy Growth
Growth is costing us not only additional taxes, but it is destroying our quality of life.
Whether you are a "money grubbing capitalist" or a "tree hugging greenie" growth in the Treasure Valley is costing you. We constantly hear people say, "growth is inevitable and you can't stop it."

Perhaps, but there is no need to work so hard to create and stimulate growth. On one hand we have the Chamber of Commerce working hand-in-glove with local governments and "business leaders" to attract jobs and people to the Boise area. They all get together in Sun Valley each year (Boise is not a good place to meet apparently) and plan their attack.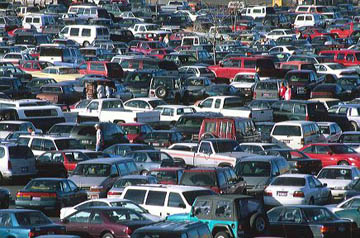 On the other hand we have skyrocketing taxes, school bonds, library bonds, GARVEE bonds, developers working to displace wildlife, developers working to get around zoning laws to build tall buildings which are illegal, developers scamming us with holes in the ground, and a power company working to put an electricity generator on taxpayer property. We also have local highways and intersections which can't handle any more traffic–they are simply maxed out.
Then we read an op-ed piece e in the Statesman by Steve Johnson of Washington Group calling on the Big Spenders in the area to pony up about $5 million to attract even more people to the valley! He cites "board rooms and executive suites" as places where people are stepping up to say "yes" to the growth madness. The sick part of Johnson's message is using Idaho's "quality of life" as a point to attract more businesses to the area.
The GUARDIAN can remember businesses like Albertson, Boise Cascade, Morrison-Knudsen. Only with the "new business model" did those companies face dissolution, CEO's raping the shareholders, and bankruptcy.
Let's spend the $5 million advertising budget dealing with the growth we have already seen at an alarming rate.
The message to those contemplating a move to Boise should be: "We welcome you with open arms if you wish to pay your fair share of taxes, pay good wages, don't pollute, and compensate us for adverse impacts on sewers, streets, air, schools, and crime."
The GUARDIAN challenges the growth advocates. Put a simple question on an advisory ballot or as a poll question on the media websites: "DO YOU FAVOR EFFORTS TO ATTRACT MORE BUSINESSES AND WORKERS TO THE BOISE AREA? Yes or No." No slanted qualifiers of prosperity and no doomsday messages. Dare you to hear from someplace outside the executive suites, board rooms, and council chambers.