Interesting Stuff
Legend Of The Superbowl Legend
Not many Boiseans can remember the first Super Bowl–Super bowl I. We know of a local guy who will never forget it–he played in the game.
Most people know him as the "gas man" who pitches Intermountain Gas on TV, but Jerry Kramer is a true football legend who played for the Green Bay Packer during the 60's under coach Vince Lombardi.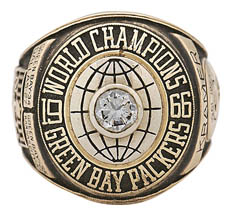 He lost his prized Super Bowl ring 25 years ago in the tiny lavatory of an airliner bound for New York from Chicago when he removed the ring to wash his hands, returned to his seat and jumped up moments later to retrieve it. Of course, it was gone.
Panic and despair set in fast. The air crew tried to help with public address announcements and the volunteer assistance of a psychic. No ring.
You know the internet will have to enter someplace, right?
According to a story by Chris Havel in the GREEN BAY PRESS GAZETTE, the ring turned up Friday on an internet sports auction site called Mastro Auctions. Here's where it gets sorta unbelievable.
The GUARDIAN talked to Kramer Saturday and he said thanks to the help of an attorney, some sports media people, cops, and the Illinois Attorney General, he might get the ring back.The auction house appears to be HONEST! They pulled the ring off the site, despite the fact bidding had already reached $20,000. Doug Allen, president of Mastro, is working with the guy who consigned the ring in an effort to authenticate it and get it back to Kramer.
Kramer learned the ring was up for sale from John Nitschke, the son of former Packer teammate, Ray Nitschke, who was distressed to hear Kramer's ring was for sale. It was for sale, but not by Kramer!
While he characterizes the ring as "stolen," the GUARDIAN surmises someone found it in the john on the plane and then didn't want to come forward in front of all the passengers–or the imposing hulk of Kramer and fess up. You can read Kramer's take on it at his own commercial marketing site, JERRY KRAMER.COM