Environment
GAS ATTACK From The Bike Boy
THE FOLLOWING IS A GUARDIAN READER POSTING
Gas price in Boise
In a bizarre twist of fate, Boise currently (as of 4/24) has the lowest gas prices across the Fruited Plain, according to www.gasbuddy.com .
Even more bizarre – neither the governor's office nor the mayor's office has taken credit for our unusual good fortune.
You can bet some gas company mid-manager is taking the heat for not upping the local out-of-the-spigot price. That ain't right! The local motorists have to do their part to pay for the retiring Exxon CEO's $400 million golden parachute. I expect the "problem" to be fixed within a few days – a week at the most.
Also interesting to note – nobody is calling for an Attorney General's investigation into the disparity in gas prices! And transplanted Californians aren't lamenting that they can't pay Rodeo Drive prices to gas up their Hummers and Jaguars.
Good-mileage vehicle snobbery
I haven't seen much of it here locally yet, but apparently in many big cities, the people who can afford to drive a Toyota Prius or a Lexus Hybrid SUV are driving around with an air of superiority, and writing letters to the editor, criticizing the unwashed masses who aren't doing their part.
I can identify! I abandoned my car for a bicycle long before it became fashionable – in January 1985. (Nearly 110,000 bike miles ago, and coincidentally, 110,000 mpg.)
A couple notes of clarification are in order. The Missus has a mini van that is available for the occasional local errand, if I grovel appropriately. It would be difficult to operate in society, at least in our wide open western spaces, without motorized wheels. But I haven't driven a car to work – even once – since September 1987. And don't misunderstand – I'm not a 42-beats-per-minute, 3-percent-body-fat type, like Lance Armstrong. I'm a middle-aged fat guy.
Besides the obvious economic benefits, bicycle-commuting makes me feel superior in every way to the pathetic slugs in their motor vehicles. (Especially the would-be macho guys, driving to work alone with their sack lunch, in a Hummer or a huge Dually Turbo-Diesel pickup. I recollect the theories about middle-age guys who drive Corvettes or Porsches, to make up for… um… "deficiencies" in other areas.) When I come up next to a Prius, if the window is down, I belittle the driver on account of his terrible fuel mileage! Is it OK for me to ride around with my nose in the air?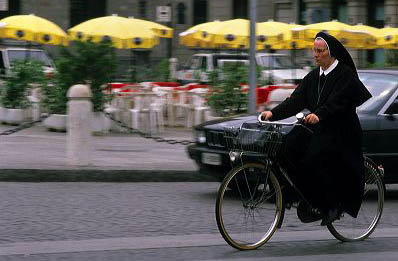 One thing more pious than a Prius is a Nun on a two wheeler! Bike Boy took a lesson from Bike Sister in Italy…it's all religion to us.
The annual bring-'em-to-their knees boycott.
I got my first one for 2006 today, in the e-mail. (Strangely, from a friend in Meridian who obviously doesn't recognize our good fortune on the gas-price front.)
The passed-along, passed-along, passed-along message is encouraging me to help tame the two rampaging oil giants – Exxon and Mobil – by only buying gas at other outlets.
Silly! (Snopes has an explanation why it won't work. http://www.snopes.com/politics/gasoline/gasout.asp If you're thinking it's a stroke of economic genius, you can also get 5 or 6 versions of the letter that's circulating. Get to e-mailing!)
Liberals and conservatives are united in demanding that the gubmint do something about the spiraling gas prices. Obviously they're too young to remember the last gas pricing fix, in the early seventies. In the case of the conservatives, they're deluded somehow into believing the economic principles of supply and demand don't apply to fuel, like they do to everything else. As long as people are willing to pay $3 for gas, don't be surprised if it costs $3. If you won't pay $3, the newly-affluent Chinese will pay more than that, as they pursue The American Dream.