City Government
Eagle Voters Burned In "Stealth Election"
About 90% of Eagle residents who went to the polls Tuesday missed out on an important Fire District vote because that election was held at a single location apart from the other 6 polling precincts.
About 3,000 residents voted in Eagle in the primary, but the permanent Fire override tax levy had fewer than 300 ballots cast. Final tally was 210 in favor and 85 against.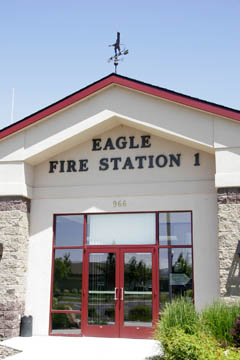 There are 7 polling places in Eagle where people voted in the primary election on candidates for congress, legislature and county offices. Fire commissioners offered only a single location–Fire Station #1– to cast a ballot on the tax override which increased property taxes for everyone.
Eagle Fire Chief Dan Friend defended the single polling place saying, legal notices were posted in the local newspaper and he had spoken to various groups about the measure. He also cited costs of election workers at about $700 per precinct as being a factor in the decision to limit voting to just one location.
The GUARDIAN feels there was unnecessary confusion Tuesday. People simply should not have to drive all over town to vote on each issue. If 7 precincts is appropriate for a primary election, those same 7 precincts are appropriate for an important permanent tax increase.
In their defense, firefighters passed out printed information prior to the election informing people of the single polling place. We think it was inadequate and inappropriate to expect people to make a second trip to vote after voting for primary candidates.
Ada County Clerk and chief county election officer David Navarro agreed with the GUARDIAN saying, "It only makes sense to vote in the same place on the same day. We would have been happy to partner with them so people could vote with just one trip to the polls."
"There was definite confusion for voters, but Fire Districts conduct their own elections and I absolutely respect that law," concluded Navarro.
Bottom line: fewer than 10% of the people who ACTUALLY VOTED were able to raise the taxes for 100% of the property owners. The Fire District woul have made a good investment if the voters had the convenience of voting at each of the 7 precincts. Voters got burned.