Interesting Stuff
Take a Trip To Table Rock
While attention is directed to various Foothills developments, we Boiseans have ignored one of the greatest natural wonders of our City–TABLE ROCK.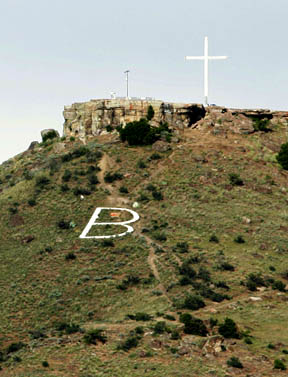 The flat topped outcropping of sandstone with the white "B", cross and dozens of communication antennae overlooks the city and the entire valley. From Table Rock you can easily see in excess of 100 miles into Oregon and Owyhee County.
Like the Depot which is closed to the public most of the time, Table Rock is truly a landmark hidden in plain sight and should be promoted with directional signs throughout the city. It is a public area that should be shared with visitors and residents alike. Currently it is open only during daylight hours, but that could get changed with enough public interest.
With all the Californians moving here, they will appreciate that we have a spot that could rival Twin Peaks in San Francisco or Griffith Park in Los Angeles as a scenic overlook.
The sunsets are spectacular, the forested mountains at Bogus Basin seem close enough to touch. You can look DOWN on airplanes landing at Gowen Field and it is a great map lesson for young and old alike to identify streets, the Depot, Capitol Building, and other landmarks.
The land is owned by the Idaho Historical Society, is open to the public during daylight hours and Midwest towns would kill for such a view. We feel the overlook should be properly developed by either the State Parks Department, The Foothills Preservation Committee, or Boise City. How about everyone kicking in to put up safety railings around the sharp drop-off and improve the road?
To get a taste of the spectacular view and solitude, drive up Reserve Street behind St. Luke's Hospital. Go past the fire station and just follow the winding road up hill. Make a Right turn on TABLE ROCK Rd. If you start going downhill you missed it. Drive slowly over the speed bumps, the folks in the expensive houses aren't keen on traffic in their neighborhood.
The road eventually turns to gravel, but careful driving will get you safely to the top. Enjoy the view and send us your impressions–along with your your photos!
NOTE: We will not entertain any discussion for or against the cross. It is there, it is owned by the Jaycees and they own the 4 feet of ground it sits upon as well. Let's see if we can improve an asset we already have.
A MEMORABLE RESPONSE TO OUR PICTURE QUEST–
Here are some pictures of our grandson, Kim Forrey, and his new bride, Brenna Forrey, who were married up there under the cross on April 30, 2006. It was a fun time with just close family.
–Barb Forrey

EDITOR NOTE–Nice location, nice pictures, pretty bride, handsome groom. For a Thousand dollar bill you could have had the Depot too!