Environment
As Simple As Breathing
Talk about a positive approach and "good news!"
Three headlines in the printed paper Thursday demonstrate a certain "dope reporter " mentality. They detail a problem with vehicle air pollution in one story and even acknowledge growth as a cause. The story below crows about 14% growth in Meridian and describes Boise's .2% growth as "anemic." Obviously they think growth is "healthy"–even if all those new people can't breath once they get here!

They also offered a headline saying white water rafting is "still a hit" despite a couple of recent fatalities. That story went on to say folks died despite wearing life jackets and helmets.
Conclusion: Growth is good even if you breath poisoned air and rafting is fun even if some people die. Statesman gets a "Dope Staff Award" on Thursday's paper.
The story about a report to be released by a regional panel on the subject of air pollution was full of irony.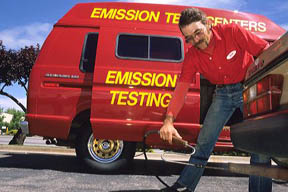 One of the plans is expanded emission testing, according Peter O'Neil, chairman of the panel appointed by former Gov. Dirk Kempthorne. Ironically the staffers at the regional COMPASS planning agency said growth in the valley will soon overwhelm any benefits of an expanded testing program.
The true irony is that O'neal is one of the biggest developers and growthoholics in Boise and has brought us most of the rooftops along the river and especially Surprise Valley" which has all those crowded dwellings near the Highway 21 bridge east of Boise. Each of those homes has a car or two or three pushing pollution into our air.
The GUARDIAN has a simple answer which should appeal to any self respecting growthophobe. A simple law which says: "THOU SHALT NOT POLLUTE".
Testing does nothing to create clean air–it only costs money for those who have newer cars which have converters and computers. "Old Smokeys" are exempt along with a bunch of others like tractors, big trucks and lawn mowers.
We think modern testing methods set up along major roads–just like radar–would serve to catch and fine polluters. That way, ANYONE from ANYWHERE would be subject to the rules. Proceeds go to more enforcement and pollution abatement.
We certainly don't allow out-of-county drivers to speed through the county. We test them with radar and fine 'em if they violate. Same with drunk drivers. A big rig dripping a pint of insecticide could close the freeway and tie up traffic traffic for hours, but the same diesel truck could belch smoke into the air from Mountain Home to Nampa with no complaints from local regulators.
The other pollution solution is to simply slow or stop the developments.