County
West Nile Along The Boise
Ada County bug trappers have found West Nile virus in a mosquito trap off Joplin Road which is between Highway 20 and the Boise River.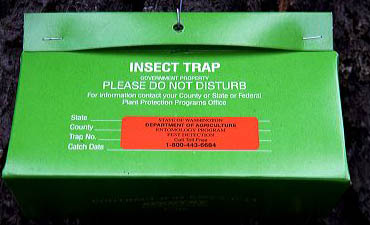 A trap like the one pictured is used to capture bugs in selected areas. Such traps should not be disturbed if discovered since they yield scientific data.
This is the third time the presence of the virus has been confirmed in Ada County this year. A couple of dead birds succumbed to the disease in the Protest-Boise Avenue earlier and a trap in SW Ada also had a positive test.
Health officials say less than 1% of humans with the disease suffer serious consequences. Flu-like simpletons of headache and joint pain are most common.
The GUARDIAN doesn't want this to get out of hand considering the world situation. It just wouldn't be justified for the Bush administration to declare war on Egypt just because the Nile runs through that African nation.
We also fear they may have plans for a preemptive strike to halt the spread of avian bird flu…by attacking the Canary Islands. Of course Turkey is nervous too. Not true, but you will probably hear it on the FM radio in the next week.