City Government
Library Scam Explained
We can't tell if it was ignorance or deceit, but the daily paper ran a blatantly erroneous story entitled "Developer Envisions Library Blocks" in Friday's edition.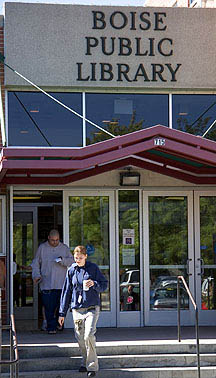 The short version is BoDo developer Mark Rivers wants to take over six blocks of of our city and include a library– which he will rent back to the city for a mere $2 million annually.
If the city is to ultimately OWN such a project it would be an illegal unconstitutional agreement, based on recent Idaho Supreme Court and 4th District Court rulings. To his credit Mayor Dave Bieter was cautious in his remarks and vowed to perform "due diligence" on how to finance a library.
Bieter and Team Dave lost a bond election for a new library in February. He caught some city councilors off guard when he suggested selling parcels of unused city land to pay for a new library. We have heard nothing on the progress of any city land sales.
The daily claimed Rivers told them his proposed six block development would generate $2 million annually in taxes which would offset the cost of a library. That is simply not true. Improvements within the urban renewal district generate NO REVENUES for the city of Boise. ALL TAXES in the district go to the CCDC (Capital City Development Corp) which is the city urban renewal agency.
CCDC Director Phil Kushlan confirmed for the GUARDIAN any development in the area would yield NO CITY REVENUES for 30 years from the time it is built. He said it is "very premature to offer any comment on the proposal other than, "Isn't that interesting."
Either the guy who built the $60 million BoDo project doesn't understand the tax system where he built or he offered up a false impression to the daily paper. Apparently no one at the daily understands how urban renewal is financed either.
The lengthy cheerleading article was prompted by a legitimate CCDC "request for proposals" to develop an acre of land behind the library at River Street between 8th and 9th. It is currently an old warehouse.
The daily also failed to mention there are at least three proposals being considered at a board meeting next week.
We suspect the front page play, including the word "Library" in the name, architect drawings, and other behind the scenes maneuvers are aimed at getting the nod from the CCDC Board. Perhaps a good sales tactic, but without a legal finance plan it rings of "Voo Doo Economics". If the City wants a library the proper move is to come to the voters.
Kushlan said the proposal from Mark Rivers is, "Much more grand" than the 1 acre CCDC is offering.