Environment
Surface Runoff Into Boise Park
Here at the GUARDIAN we received word of some low profile dealings between the developer of those controversial condos on Crescent Rim, Drainage District #3, and Boise Parks.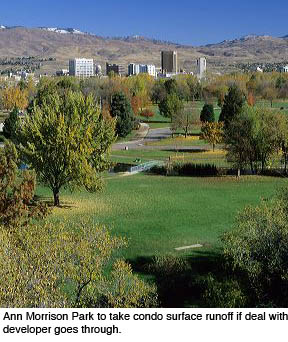 The short version is a plan is being hatched to dump surface runoff from the condos into Ann Morrison Park. We want to make certain the Boise City Councilors are aware of it, but more importantly the taxpaying public. The laws require surface water to be collected "onsite" for commercial properties, to prevent storm sewer overload during heavy rains or snow melt.
Dumping commercial runoff into Boise Parks is not new. WinCo (between Myrtle and Front Streets) cut a deal with deposed mayor Brent Coles to route their parking lot water into Julia Davis Park in exchange for a "donated" sign (reportedly worth $50,000) on Capitol Blvd. several years ago. They claim to have a "state of the art" filtration system, but when it comes to separating antifreeze and de- icing chemicals from water, it takes some technology. We are not aware of any monitoring of the discharge into the lagoon.
One reason the Bench-Depot neighbors aren't screaming too loudly is because they fear water collected onsite and allowed to seep out could take a right turn and ooze out the face of the rim and make a mess of the existing upscale Park Center Apartment complex. In fact, there has been a long standing problem with irrigation water saturating the area and spewing from the hillside.
A similar thing happened years ago along Warm Springs Avenue after septic tank seepage from Warm Springs Mesa caused mud slides. The cure was a sewer system.
In the case of the Crescent Rim condo development, there is no problem–YET. There are no condos or parking lot, but that is comming soon. Looks like the city will "bail" the developer out of a water problem. The proposal on the table calls for a discharge rate of about 450 gallons per minute–which will occur only during rain storms of heavy snow melt.
We question the wisdom–and propriety–of discharging runoff into the waters of the little known stream which meanders along the base of the rim within the park. This deal needs to have public scrutiny before Boise City becomes the facilitator to action which could cause an environmental impact.
The proposed 1 CFS discharge of water into the public stream needs to be monitored closely BEFORE it is a done deal.
The GUARDIAN also has long been concerned about the legality of Drainage District #3 having taxing authority, but none of the commissioners is elected. A law office sends names to a judge to APPOINT these three guys. It seems highly irregular to allow absolutely no public vote for officials who have authority to tax our property. These are the guys who are a party to cutting the deal with the developer who doesn't want to follow the law and collect surface runoff on site.