Environment
Is It Rape Or Consensual
By GUARDIAN READER "DH"
Red flags pop up when an industrial company like Hoku Scientific of Hawaii announces plans to locate a new Solar Panel Manufacturing plant at a site somewhere along our Snake River.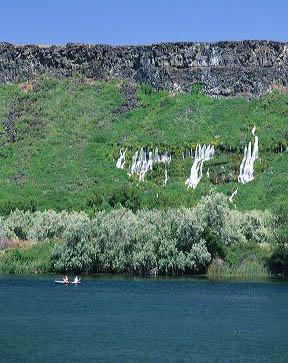 When someone wants to put a plant next to a river it isn't because they want to help the environment! Why along the river and why in Idaho? The Daily Paper and Lame Duck Guv Risch tout "300 jobs" as a good reason to welcome an industrial plant.
Hoku said they decided to locate here because of "Tax Incentives and Tax Breaks" provided by Idaho state government. In light of the secret policy of the Tax Commission toward Cabela's, we need to find out fast just exactly what is being given away to Hoku.
Like most silicon based technology manufacturing, solar panel production consumes massive amounts of electricity. The Hoku spokesperson was also quoted in the Daily Paper saying that Idaho's "cheap" electricity was another reason for choosing Idaho over Singapore. Idaho Power's most recent attempts to raise residential power rates cited record power consumption as one justification for price hikes.
They didn't say anything about "cheap labor" in a right to work state, but you can bet that was hyped by our state procurers. Also not mentioned were the processes used to convert silicon into useable products.
Who pays for the incentives and tax breaks the politico gang is giving this company? Even with the skewed "pie in the sky" benefits used to justify this sellout (giveaway?), how many of these 300 jobs will go to current residents of Idaho? Of those jobs that "may" be filled by "Idahoans," how many will be "good paying?" Will this deal reduce MY taxes? We need answers before embracing this babe.
When business orders exceed production capacity, most businesses use their own profits for expansion. Idaho Power merely approaches the P.U.C. and says they need to raise OUR rates to pay for their new generation and distribution systems. By law Idaho Power has to meet the demands of its customers (in exchange for the monopoly rights). With a big consumer like Hoku in the mix, don't look for any good news soon.
High tech manufacturing has been deceitfully billed as clean and non-polluting. Not so.
Check out some of these often found skull and crossed bones ingredients: dopants such as arsenic, boron, antimony, phosphorus and compounds like arsine, phosphine, silane. Liquids like hydrogen peroxide, nitric acid, sulfuric acid, hydrofluoric acid.
No matter how these deadly chemicals are used, handled and stored at the manufacturing sites, the possibility exists they will be released through fire, earthquake, theft or other means. Even the benign sounding Hydrogen Peroxide was referenced as a major explosive component in the recently revealed English terrorist plot to blow up airliners. The new chemicals are transported to the plants over our roads and through our airports. The used/contaminated chemicals that are not consumed on site are also shipped to other areas for disposal. We don't need more hazardous material in Idaho, let alone "along the Snake River."
Maybe Lame Duck Guv has a point. Chum more deadly chemicals that may end up in the water or air. There are too many healthy people here anyway. West Nile Virus and Dibrom haven't helped much to improve the medical economy. Or maybe we should just ask for a big, wet, kiss because we have certainly been screwed!