Growth
Door Banger Parking Lot
Like one of those computer graphics programs, Boise's newest parking garage was programmed to, "SHRINK TO FIT PAGE."

As a result, the Myrtle Garage is difficult for the upscale SUV crowd to navigate due to hairpin corners and substandard parking stalls. Instead of the 8 foot 6 inch width, the new garage features 7 foot 10 inch stalls. Putting doors within striking distance of other vehicles. A CCDC spokesman told the Daily Paper 90% of the cars entering the garage can make the tight turns. GUARDIAN math calculates that means 10% of the cars entering the garage are unable to make the turns or fit in the stalls.
While all you bikers and little foreign car people may smugly say, "people need to drive smaller cars," those SUV folks are the ones who crowd the lines and bang up your fancy little rides with the doors and winches on their king cab rigs.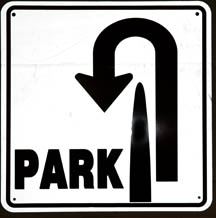 As promised, BoDo and the CCDC have helped the economy… Autobody paint shops and those dudes like "Dent Doctor" are going to have a steady business. Check out the scrape marks on the cement pillars made from turning too tight.
The special six parking space concession to Office Depot by Team Dave probably won't do much to solve the ramp problem.
The other dirty little secret about the new garage is that about a third of the spaces built with public tax money are dedicated to(rented by) the Hampton Inn hotel. Pretty sweet deal to offer guests inside parking when the competition has to provide their own parking facilities out of pocket.
AND since all the taxes on improvements within BoDo go to the Urban Renewal District (CCDC), those of us who pay our property taxes provide free police, fire, and other services to the downtown crowd.