Politics
Political Litter Abounds
The political landscape is littered with signs. The colors change, the names change, but how many voters cast their ballot based on the signs screaming for attention?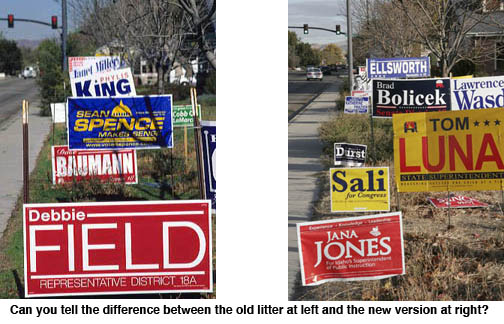 The vacant lot near Vista and Targee is a breeding ground for those ubiquitous signs. (for you non-library types that is "ever present, appearing or found everywhere")

We like the Hawaiian style of political signs. You can't plant 'em, but you can wave 'em. Some candidates get volunteers to stand on busy corners waving at cars and the guys after the male vote hire bikini-clad girls. WHO waves your sign is more important to some voters than what the sign says.
Back in Boise. How many of us base our decisions on the radio, television, or newspaper ads with smiling mugs promising "integrity, service, and honesty" for YOU? Did you ever find a red white and blue brochure hanging on your door knob and exclaim, "Wow! What a pretty brochure. I am gonna vote for her."
How many times have you decided to vote for someone because they were thoughtful enough to make a pre-recorded call to your home just as you were sitting down to a romantic candlelight dinner with that perfect someone just before a moonlight walk on the beach?
On the flip side, the IDAHO STATESMAN (usually called The Daily Paper) gets kudos for a comprehensive Sunday presentation with the candidates profiles–in their own words–along with discussions of the initiatives. Worth the read if you vote. Dig out your Sunday edition or use the link at the right.
It isn't all without motive of course. Much of the political payoffs the developers and big business make ultimately goes to the media folks in the form of paid political advertising. Then, in the course of the next four years we get to pay it back in the form of tax breaks, zoning changes, and more growth–all to boost the local economy. What a country!