City Government
Boise Taxes Go to Private Lobbyists
The recent GUARDIAN piece questioning WHO calls the shots regarding the Boise City position on state legislation has prompted increased communication among Boise Councilors.
It seems council president Elaine Clegg gave direction to lobbyist Lyn Darrington on how to testify on a bill that would impact Boise's urban renewal agency, the CCDC. She told the GUARDIAN it was a "no brainer" on how the city should view the proposed bill which would have mandated election of board members by the public–she was against it.
She said there was "nothing nefarious" about the way things are being handled with regard to the Idaho Legislature adding, "We have taken measures to increase communication among council members with weekly e-mails from the lobbyist."
She said councilors were welcome to attend a weekly Monday meeting to get further updates regarding legislative issues effecting Boise. We applaud the move.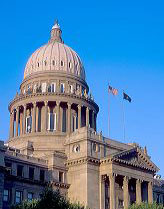 The GUARDIAN did some further checking and finds that on January 16 Boise Councilors hired not only the local Gallatin Group and lobbyist Lyn Darrington for $45,000, but they also hired another firm, Ball Janik LLP for $66,000 to do their bidding with the Feds.
Each private lobbying firm is to be the "primary point of contact" between Boise and the Feds or State government.
We find this to be downright absurd!
We have ELECTED state and federal senators and representatives. We have ELECTED city councilors and a mayor. The system is dysfunctional if we need to BUY influence through lobbyists to be heard in the legislative halls of America. We are sickened at learning of this new practice.
Here is the job description in the city contract:
Scope of Work:
1) Serve as a consistent and effective primary point of contact between the City of Boise and State
agency officials and elected representatives.
2) Assist with development and execution of the City of Boise's 2007 State legislative agenda,
including analysis, preparation, coordination, and filing of legislative items, whether statutory or
Constitutional in nature.
3) Identify, prioritize, monitor, and respond to State legislative and regulatory proposals that have
potential implications for the City of Boise and its operations, and report back regularly to City
officials regarding the status of these items.
4) Schedule and conduct frequent and regular meetings with State lawmakers, Legislative staff, City
of Boise officials, and representatives of the City's governmental and community partners before,
during and after the 2007 State Legislative session.
5) Represent the interests of the City during the 2007 State Legislative session by regularly attending committee meetings, monitoring floor votes, preparing correspondence with key lawmakers, and providing relevant testimony when applicable.
6) Consult on a regular basis with City of Boise officials, including the Mayor, members of the City
Council, Department heads, and other City staff and advisers about the status of and strategy
regarding State legislative and statutory issues.
The BOISE WEEKLY did a story mentioning the lobbying contracts earlier and we expect a bigger one soon from the STATESMAN.