Emergency Service
Homeless Ambulance Crew Roves
Looks like Ada County EMS has at least one homeless ambulance which "roves" while it is parked. Here is the story.
The GUARDIAN recently got the following reader query which we forward on to Ada County regarding ambulance coverage in what used to be the Whitney Fire District, but is now part of Boise City.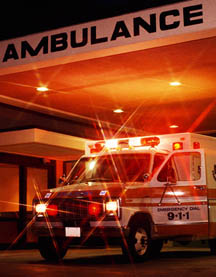 "Why does Ada County EMS no longer have an ambulance covering the south end of town? I was a bit disturbed to find out we would be waiting for an ambulance to come from Meridian, or even St. Als. Maybe we could get this topic listed?"
Here is the official answer:
"Ada County has not cut back ambulance service in southern Ada County. Just as in the past, the Paramedics Department continues to schedule and designate a specific ambulance unit to handle emergency calls that are reported in that section of the county.
The ambulance assigned to cover that area has been relocated to the St. Luke's Meridian facility on Eagle Road. This move was prompted by a letter we received from Whitney Fire officials in December requesting we vacate the property by January 15th. We complied with their request and temporarily relocated to the St. Luke's Eagle Road facility, which is 3.5 miles away from the previous Whitney location.
In an effort to ensure this temporary relocation does not adversely impact ambulance response times and the residents in the area, the department is now covering the area with roving ambulances — which is a common service delivery method in other ambulance systems. The term roving does not necessarily mean the ambulance is constantly in motion; rather, the Paramedic crew often parks near locations that seem to generate the most emergency calls in southern Ada County. The St. Luke's Eagle Road facility, at this point, basically serves as a supply storage/restocking hub for this crew.
While this temporary delivery approach is not adversely impacting response times, we realize some people get a sense of security from knowing they have a permanent ambulance station in their neighborhood. To that end, Director Hagen is continuing to search for a more permanent location within southern Ada County and hopes to be able to identify such a location in the very near future."
The GUARDIAN boils all this down to mean: they got kicked out of the Overland Road station and also backed out of an agreement to pay $372,000 as the EMS share of a new fire station. They are still looking for a home.
But if roving and parking are OK and response times are not impacted, why look for a new home?