Business
Develop At All Costs Everywhere
The GUARDIAN admits a lack of knowledge about the funding details of the Idaho Housing and Finance Association, but we know when things don't smell right and a bill to expand bond authority for IHFA has an aroma.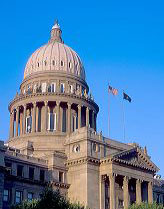 We know IHFA is created by Idaho law, but it isn't a state agency. People who work there come from the state employment pool, but they don't get state benefits. The legislature controls their authority, but they don't give them any money. They were created to provide low cost housing to the needy, but they sell GARVEE highway bonds. This thing walks like a duck, barks like a dog, and squeals like a pig. What is it?
Now comes the Association of Idaho Cities and the Idaho Association of Commerce and Industry supporting a bill in the legislature to EXPAND the lending authority of the non-agency agency to include economic development, new farms and just about anything that used to be done at a bank, including ECONOMIC DEVELOPMENT, INDUSTRIAL, COMMERCIAL and OTHER PROJECTS.
The IHFA funds things through sale of bonds, but we can't figure out how it really works. Who backs the bonds if the project promoters fail to pay? If it is just a "broker" agency, why not run it through a traditional lending agency?
Our biggest fear on this bill is that it is a smoke screen that will allow local governments to get around the Idaho Supreme Court decision that reaffirmed the constitutional prohibition against long term debt without a vote of the people.
If that is the case, look for Boise to build a parking garage financed by IHFA and CCDC will be right behind them for downtown projects that are sure to be otherwise challenged by voters.