City Government
GUARDIAN Solves Bus Woes
Using the KISS (keep it simple, Stupid) philosophy, the GUARDIAN offers up the immediate solution to our transit woes…IF we can find buses that don't burst into flames. This one has potential.
The plan offered by our chief transportation planner is simplicity it self… a "surface subway" using existing resources–buses.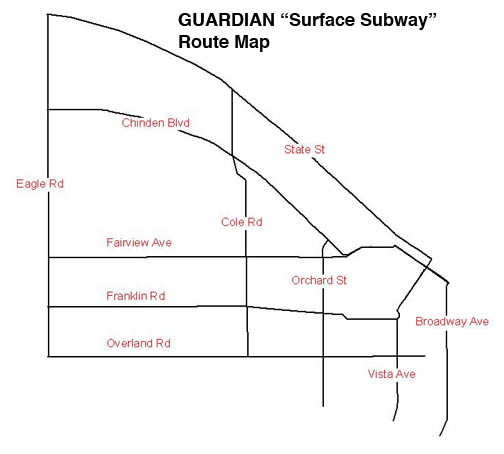 We feel public transit needs to be dependable and frequent to get riders. Trains, light rail, trolleys, etc. have a major drawback–they are limited to riding the rails and they cost more than the entire budget of God.
Buses can use existing streets and with existing technology they can make traffic signals go green (like the fire trucks do). The GUARDIAN plan calls for buses to pass by the "stations about every 20 minutes.
Rather than wind around neighborhoods in ill fated attempts at being all things to all people, the GUARDIAN LINES will intersect for transfer purposes and get the average rider pretty close to their destination. Multiple stops along the routes would be offered with the transfers at intersecting points.
We don't claim to have a perfect solution, but with 3 buses on each of the streets identified in our route map we will have the ability to move a lot of people effectively. It will use 30 buses.
The GUARDIAN has offered up the basic system. The rest of you can chomp on it, but we are seeking suggestions to get people to our "stations" which will be at each intersection on the map as well as at each end of the line. Think in terms of STATIONS and straight line routes. We can already see a potential Federal Way route in the future.
It would be impractical to build any kind of rail system that could even come close to our plan. Forget about the trains and get on board with a simple system within the area of our map. There will be costs for "stations," and some street modifications, but there is no need for a rail system in our foreseeable future.
The mall, downtown, and other locations can come up with shuttles that pick up and drop passengers at the "stations." Meanwhile "Park N Ride" lots as well as express buses from other communities will connect to the core system.
The GUARDIAN staff transit Guru explains that traditional planners have complicated formulas using census figures, acres, square miles, miles per hour, to come up with justification for transit systems. It boils down to DENSITY and THAT is why all the officials are working so hard at cramming us together like sardines–so they can justify TRAINS.
Here are some density comparisions per square mile:
NYC is about 26,000 per square mile; LA (city) 7,900; Pittsburgh, PA 6,000; Philadelphia 11,000; Chicago 13,000; Portland, OR 3,900; Seattle 6,000; and Boise 2,900. (2000 Census Tables)