Business
Taxes To Increase Eagle Rd. Traffic
Meridian politicos are aiming to deprive the citizens of Idaho of at least $15 million in sales taxes to help a commercial developer create more traffic on Eagle Road at Fairview where he wants to build another retail mall.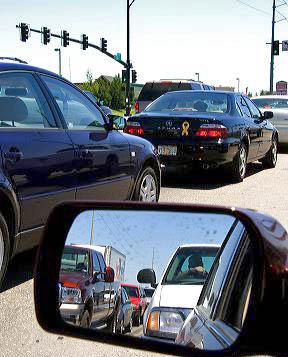 A new law passed by the Idaho legislature to subsidize a Cabela's in North Idaho will be used if the Meridian growthophiles get their way. In a nutshell, the law allows developers to loan cash to the state to build highways that otherwise wouldn't be built. They have to spend a minimum of $8 million and a maximum of $35 million for road improvements.
The developer fronts the money and the state pays back the cost to the developer in the form of rebates from sales tax revenues collected from stores in the mall. It is an accounting nightmare for the Idaho Tax Commission. Instead of just a single account for a retailer–regardless of how many outlets it has–the commission will have to break out each store in the developer's mall and then send the developer a monthly rebate of 60% of the sales taxes collected, based on sales of outlets in that mall only.
Meridian Mayor Tammy de Weerd is glib when she explains how the law works, but is apparently eager to add to the 90,000 cars traversing Eagle Road daily. She told the Daily Paper, "It's new money to the transportation system. It's new money to the region and it's not taking money away from other critically needed projects."
She skirts the facts. The entire cost of the project is funded by Idaho Sales tax destined for the general fund. The ABSOLUTE TRUTH is the entire $15 million expansion cost will be paid by public sales tax money that will never reach the general fund to benefit the citizens of Idaho.