Business
Derail Amtrak In Idaho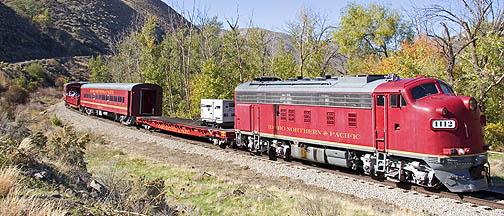 What is it with politicos and trains? Seems they are all fascinated with the "concept" of having passenger trains…like the people riding the "Pumpkin Express" from Horseshoe Bend to Montour.
Europe and Japan have trains, why can't Americans have trains? One reason they have trains in other places is because they have massive amounts of electricity–much of it generated my nuclear reactors. They also have lots of people in small areas.


The Pioneer Train ran 2,000 miles from Chicago to Portland with Omaha, Denver, Salt Lake and Boise as the only major metro areas served. It is still "Wild West" compared to the Eastern Seaboard.
That same mileage in Europe would take you from Rome to London with stops in Milan, Vienna, Zurich, Frankfurt, Paris, Brussels, and Amsterdam with a few miles left over.
It would also pass within 50 miles of about 150,000,000 potential riders.
The latest folly comes from Idaho's junior senator, Mike Crapo. Junior appears to be pressuring Amtrak into a costly "study" of providing rail service to the sparsely populated American West, including Boise. The hidden message of "feasibility study" for rail service to Idaho is Junior won't vote for an $11.4 billion Amtrak funding bill unless they at least consider Idaho.
That may sell well to Junior's elderly constituents, but it doesn't say much about sound fiscal judgment since the rail line lost more than $20 million on the Chicago-Portland run during its last year of service in 1997.
No need for a survey. The GUARDIAN will tell the junior senator the following for FREE:
Tracks in Boise alone are in disrepair and haven't been maintained for 10 years.
Boise City owns the Depot and trains conflict with weddings and parties.
Diesel fuel costs have tripled in 10 years.
Wage and benefit packages for Amtrak staff are much higher than 10 years ago.
ALL of the passenger facilities on the line are closed.
Trains are a slow and costly means of travel in the sparsely populated Western spaces.
Support for trains is based on nostalgia, not common sense and economics.
Pork barrel politics is selfish and not in the best national interest of America.
It makes much more sense to subsidize Greyhound to offer transport to rural areas.
An ironic graphic example of the folly is how handy the math works out on Amtrak losing $20 million a year on the 2,000 mile stretch of track. By our calculations, if you placed $1 bills (6 inches long) end to end on the track, $20 million would just about make a perfect fit. (Hint: 5280 feet per mile)
Taxpayer money should not be used for tourist-type train rides along the Columbia River Gorge or across the Rocky Mountains. Greyhound will do it a lot cheaper.