News Media
Blessed Be The Armed Christians
We don't want to get into a debate about religion, so consider this a MEDIA post.
In the wake of the tragic ambush in Colorado Springs at the evangelical mega church, media outlets across the nation are discussing "Increased Security In Churches."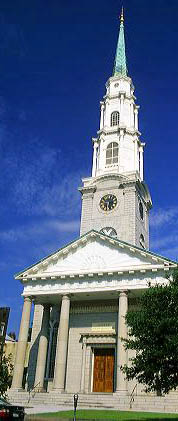 The GUARDIAN predicts the local media across Idaho will all have stories asking "COULD IT HAPPEN HERE?" The answer is: "Of course. There are guns and shooters everywhere."
There will be interviews with preachers and cops. If the churchites reveal they have no armed guards they will feel vulnerable. If they detail their security system, they are "helping the enemy." All this will lead to a new market for Blackwater-type guards responding to a "state of fear." Of course the lady who couldn't shoot straight will be hailed as a hero–we can always use another hero.
Seems to us the Muslims are not the only religion packing heat when they pray. The description of the female volunteer security guard, "praying to the Holy Spirit as she squeezed off rounds" qualifies as a heavenly oxymoron.
The prayers apparently didn't help her shoot straight. Cops say the bad guy died of a self-inflicted gunshot wound.