Interesting Stuff
In Light Of Christmas Spirit
Mrs. GUARDIAN decided it was time to pack up the cute little foo-foo dog and take a low speed drive around Boise to look at Christmas decorations.
The GUARDIAN reasoned the dog should stay home and it was really not very green to drive around burning gas and polluting the air. At the very least we should peddle bicycles into the cold night. Like Team Dave, she reflexively disagreed with the GUARDIAN position, so we headed out in a Japanese car built in Kentucky with foo-foo snuggled in her lap.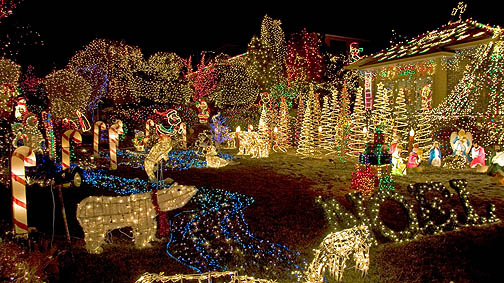 Due to space and interest limitations, we will cut to the chase. The place on Quail Ridge (above Hill Road, right off Collister at the fountain, up hill and fork to the right…just follow the traffic) is spectacular.
These folks pay tribute to Jesus, Rudolph, LED, incandescent, flood lights, you name it, they have got it. In the true Holiday Spirit, they have angels, stars, trees, and a lighted arch in the driveway where people pose with their kids. The lawn is fenced, but they welcome visitors on foot into the driveway.
No doubt about it, they win the prize. Conspicuous consumption, sharing, joy, love,pride. It's all there. The street is jammed with noisy V-10 pick ups, rattling diesel engines, little cars, SUVs all driving slowly past, turning around in drive ways, crushing sprinkler heads, oohing and aahing at the lights. It is a major attraction during an otherwise bleak time of year.
Bending to peer pressure and aiming to please Mrs. GUARDIAN, we parked at the curb and proceeded to make a few pictures of the spectacle. The pleasant well lighted evening was suddenly punctuated with the incessant blaring of a car alarm. HONK, HONK, HONK, HONK! We despise car alarms.
With accusations of Scrooge dancing in his head, The GUARDIAN stomped back to the car just as a Soccer Dad was backing away in a van. The offensive horn was emanating from the GUARDIAN staff car! We quickened the pace lest Soccer Dad escape after bumping the car. After finding the mute button on the key fob, the GUARDIAN inspected the rear bumper.
"I did NOT hit your car," said Soccer Dad before we uttered a word.
"OK."
"You don' believe me? I will put my lights on it. See for yourself."
"OK."
"I didn't even come close. I don't know what made the alarm go off."
"OK. Have a Merry Christmas," says the GUARDIAN.
"You too," says the soccer dad.
The foo-foo dog popped his head up just as Soccer Dad drove off, clearly ashamed that his bouncing around in the locked car caused the alarm to sound. Mrs. GUARDIAN rolled her eyes and snickered.