County
Jail For Sale Deals With State?
REPORTED BY CALDWELL GUARDIAN
Looks like the State of Idaho is working on a plan to solve the overcrowding problem at the prisons–have the counties build new and bigger jails.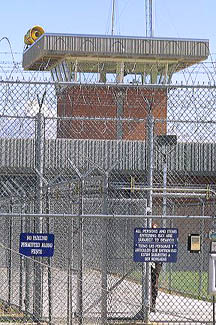 A recent proposed contract deal between county sheriffs and the Corrections Department discussed at an IDAHO ASSOCIATION OF COUNTIES DISTRICT III ELECTED OFFICIALS meeting explains why places like Ada and Canyon Counties are building such big jails. We could soon see Expedia and Orbitz brokering jail cell deals.
Randy Blades, Warden of the Idaho Department of Corrections, spoke about a new contract process being worked out with a subcommittee of the Idaho Sheriffs' Jail Standards Committee and IDOC. The new contracts will allow state inmates housed out of state to be returned to Idaho with some being placed in county jails able to comply with the specifics of the contract.
IDOC will provide case managers to the inmates that will follow them through the county jails and provide appropriate programs that can also be provided to the county sentenced inmates. IDOC will basically be a 'footprint' in the county jails and pay for it at $1.00 per program per inmate in addition to $45 per day four housing. The bed needs in the next five years is predicted to be around 5,000."
THE CALDWELL GUARDIAN attended a local service club lunch on Wednesday where the guest speakers were Sheriff Chris Smith and Lt. Craig Hansen of the Canyon County Sheriffs' Office. Their pitch was for the new jail to be built on Hwy 20/26 and a bond issue to fund what would eventually be a 2,000 bed jail facility including a medical department to serve, most if not all, inmate medical needs. Two thousand beds are to be built in several phases to be paid for with your property taxes. How did we get from the 800 bed facility at the Jerome Farm property to 2,000 beds out on Hwy 20/26? Potential profit margins renting inmate space may be the incentive.
THE GUARDIAN is concerned that our elected officials have made the decision to get into the JAIL FOR HIRE business with a "we'll leave the light on for ya" attitude.
Canyon County has a population of 180,000 people based on best guess estimates. The average stay in the Canyon County Jail is currently 18 days. A 2,000 bed jail would give us the capacity to lockup 40,555 of our residents through this facility on an annual basis (given the 18 day average sentences we now have).
Long term debt to build this jail will require approval of voters. This monster will cost almost $40 Million a year to operate based on the $45/day the state will pay to house inmates on top of the bond issue amortization costs of around another $5-10 million a year debt service.
The key to this statewide problem is whether or not county taxpayers are willing to provide detention facilities the State legislature has failed to provide. Ada County is in the process of creating a drug and alcohol treatment center that is an absolute legally mandated responsibility of the State of Idaho.
A final set of concerns are: If Canyon and other Counties invest in long term capital projects, is the state under any obligation to honor these contracts for 30 years or the life of the bonds? Also, are local citizens willing to house the inmates who are sentenced to the state pen?