City Government
Boise Greenbelt Gets Attaboy
OK. We admit it has been a while since the GUARDIAN has pedaled the greenbelt.


That said, a Sunday meander (for non-library types that's "wander at random") along the city's showplace river trail was very pleasant and rewarding. From our "comfort bike we noticed not only was it packed with all sorts and ages of people, they were all exceedingly POLITE!
People on bikes announced their presence to pedestrians with an audible, but not startling "on your left" as they passed and the walkers invariably said, "thank-you" in response. There were also a fair number of roller bladers , scooters, and assorted bikes with trailers for kids. We even saw a paraplegic hand powered three wheeler.
The homeless crowd was mostly lined up for a free meal from the Christians at Julia Davis Park, but even those who were sleeping in the shade were unobtrusive and bothered no one.
Nearly 40 years ago as a young staffer at the Daily Paper, the GUARDIAN editor flew in a National Guard chopper the full length of the present Greenbelt making photos. We crudely pasted them together to show readers the potential for the route along the river.
That route was packed with gravel pits, a slaughterhouse, a sewer plant belching foaming phosphates into the river, and all manner of junked cars and rubbish. Public awareness, city support, and lots of work brought us to the present.
Now, they just need to OPEN THE DEPOT to the public and life will be complete.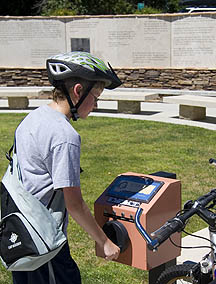 The Anne Frank Human Rights Memorial has a neat new addition in the form of hand crank generators which power recorded messages about the site near the lLibrary between 8th and 9th Streets.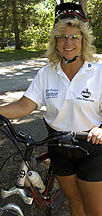 We observed Boise Police lady volunteer Laurie Brede give a ticket to 12-year-old Jake Merrill for the way he was riding his bicycle and wearing a helmet…the ticket included a free lunch at Applebee's. Laurie is one of about 25 volunteers and a BPD spokesman said they can use more like her to be the "eyes and ears" of the patrol division while offering directions and information to visitors.
Being the GUARDIAN, we are compelled to note one minor fault and demonstrate the "power of the people" to make things better. There is no sign along the bike path to indicate the fantastic M.K. Nature Center location behind Fish and Game headquarters. We directed visitors from Canada to the location and only later realized it is unmarked.
TO ANY GUARDIAN READER–Please make us a router-type sign on a 4 foot piece
of 2×8 suitable for posting on the fence reading: "M.K. NATURE CENTER."
Finished with either brown outdoor paint with white letters or natural oil finish and 4 holes for mounting would finish the deal. We will feature the presentation on this site.
UPDATE 7/14/08 3 p.m.–
A reader has sent this YOU TUBE link to a HISTORIC FILM.
A Fish & Game staffer has pledged to work on a sign for the Nature Center.
The internet and GUARDIAN continue to bring out the best in our society!