County
Ada Commishes Vote Population Increase
All three Ada County Commishes voted late Wednesday to approve a giant subdivision of 3,113 homes covering nearly 2 square miles in the desert south of Kuna Mora Road at S. Cole.
Their ill conceived actions stand to increase the population by at least 9,000 people.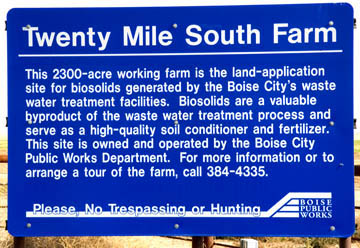 Consider the area is near a prison crammed full of killers and perverts, the Boise Poop Farm where sludge is dumped on the land, and a slaughter house with a road full of trucks transporting cattle to their death. Great neighborhood! And it is all 15 miles from downtown Boise.
The growth will lead to increased demands on water, sewer, air pollution, fire protection, schools, and roads–all at a time when the unsold housing inventory is at record levels and financing is near impossible. The housing bubble burst, but the Commishes are still BLOWING BUBBLES.
So much for stopping "urban sprawl." These guys–regardless of political leaning–have just voted to increase the county population by at least 9,000 people. They bought into whatever the developer claimed. Investors need to learn the source of financing and warn the world to stay clear of investing in such a risky scheme doomed to failure.
We have already "nationalized" the housing finance market, will the developers be next? If Tamarack and their $6 billion bond scheme with the Idaho Hosing and Finance Association is any indication the answer is YES.
How far will the 100 per cent increase in auto registration fees go toward solving increased traffic woes? Arrowrock Subdivision which is in the area has come afoul with the Public Utilities Commission over water issues and the aquifer will be hard pressed to take care of even more users.
Two of these guys are up for re-election and GROWTHOPHOBES need to remember that on election day.