Business
Will Boise Market Misery For Profit?
It looks like the squabble over who will run–and profit–from ambulance service in Boise is alive and well.
Boise firefighters have been quietly adding trained paramedics to their ranks for a couple years. On the face of it, a way to save lives and generally improve the level of emergency service to citizens.
Meanwhile, during the same period Ada County Emergency Medical Services lost a court battle with Kuna and other fire departments over a draconian ordinance aimed at making the County EMS the supreme authority and sole provider of ambulance service.
The court ruling opened the door for the dire departments to provide "transport" for victims of heart attacks, stroke, accident, and injury–a great revenue source for doctors and hospitals. That's why there are so many helicopters flying around. There is a lot of money to be made treating misery and there is money to be made hauling the miserable.
Think of sick and injured as a commodity–something that can be bought, sold, or traded.
Boise firefighters union is always working on expanding the talent–and pay– of its members. Here is an entry from their website:
"EMS COMMITTEE–
Some members of the committee made a site visit to Salem, Oregon to view their operations and contract with Rural Metro. We were able to ask and learn a lot about the public private partnership. It was very encouraging. We will be looking at many different companies and styles. We will continue to gather data and prepare a report for chief Doan. If you have any ideas or thoughts contact a Committee member."
The GUARDIAN has contacted a couple of Boise City Councilors and they claim they haven't really heard much about any dealings with "RURAL METRO." A couple of sources who appear to be either Ada and/or Canyon Paramedics have tipped the GUARDIAN about Rural Metro, a Scottsdale, Arizona company and claim the firm is meeting (dealing?) with both Boise and Nampa officials in an effort to profit by hauling patients initially treated by the local firefighters–in lieu of the County EMS ambulances.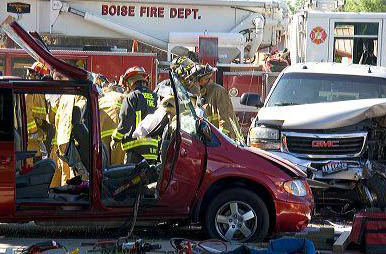 We figure Boise won't be able to justify buying a fleet of ambulances, but if they can offer up a certain number of patients each month, RURAL METRO will make the investment to have exclusive rights to profit from Boise's sick and injured. It may take legislative changes to make it happen, but the State EMS director is the wife of a Boise firefighter union member, so there will probably be some dinner conversations.
Such a move would threaten the existence of the Ada County EMS agency because they make most of their money off Boise residents–there are more of them. The unincorporated portions of the county–much of it Federal land–has no tax base, but people still get in accidents and suffer emergencies there.
Everyone who lives in Boise or any of the other cities also lives in Ada County and they will have to pay for a county ambulance service they don't use–like they pay for the sheriff's patrol, but all calls are handled by the city police.
Of course, if Rural Metro controlled the ambulance system in the cities, they could go anywhere as a private company. A private ambulance service might not be a BAD idea, but it has to be an open bidding process, not an insider trade as Boise is wont to do. If Boise can offer enough patients, you can bet someone will pay (franchise fee) to have the rights to their cash. Ada County Commishes should look Rural Metro and others before they get run out of business.
The CALDWELL GUARDIAN has a take on the AMBULANCE ISSUE.
More on RURAL METRO.
Idaho EMS MEETING MINUTES.