City Government
Boise Coppers Get New Headquarters
After 25 years of being "roomers" at the Ada Sheriff's law enforcement building on Barrister, Boise coppers have a new home on Sailfish off  Emerald west of Maple Grove.  The entire department is in the process of moving during the next 10 days.
Officially known as "City HAll West," the coppers will have about 80,000 of the 93,000 square foot facility formerly owned by Hewlett-Packard and used as a call center.  The rest will be for fire department administration, city IT staffers, and a few folks to take various parking, trash, and permit fees.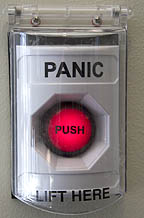 The most costly and innovative feature in the building is a "Safety Cell" at the front entrance.  It is designed as a refuge for domestic violence victims or anyone else seeking to escape pursuers.  It comes with an honest to goodness red PANIC button which locks the outside door and connects people to 911 via intercom.  The building will not be staffed after normal business hours, hence the innovative safety feature.
The facility was purchased for about $10 million and another $5 million went into outfitting it for the coppers.  There are abundant conference rooms, "soft waiting areas," break rooms with kitchen facilities, ample locker room space with separate facilities for lady coppers.  
Lockers are wired for power to recharge radios, phones, and the rest of the gizmos hanging off the copper belts.
The structure has a workspace layout that makes sense with the various division captains getting offices with outside views, but with glass walls.  That way everyone knows who is talking to the Capt., but they can't hear what is said.
The vast structure has hallways named after Boise streets for easy Identification.  "My desk is near Broadway and Idaho hallways" will make sense to those who work there.
Top copper, Chief Mike Masterson, made a concession to common sense by doing away with a "chief copper crapper" in the new building…he will never make it as Interior Secretary.  Friday he was mired in the process of moving from the old Barrister site.  His office had a phone and not much else, but he vowed most everyone would be into the new site by April 1.
One thing that has to go away is an abundance of very unwelcoming signs in the parking lot proclaiming most of the spaces for "authorized vehicles."  There is plenty of secure parking for copper cars out back.
This is at least the third site deemed to be the "best location" for a police headquarters for the coppers.  GUARDIAN editor Dave Frazier won a 4th District Court decision against the city when they tried to build a much more expensive facility at 2900 Fairview in a flood plain and enter into long term debt without approval of taxpayers.  This building was the result of excess taxes over about a 5 year period with no mandate of voters, but it DID save some taxmoney.
The real saving was in the wiring and computer friendly design (wiring and false floors) of the former  H-P structure.  Even the crime lab was able use some existing items like sinks, refrigerators and dishwashers used for the original cafeteria.