Federal Government
Historic Public Health Event Fighting The Flu We Don't Call Swine
The free vaccine program for the H1N1 flu–the one we don't call swine–is being billed as the most massive public health effort in more than 50 years in the USA.
For anyone over 60 it brought back childhood memories of when we stood in line for the first polio vaccine in 1955. Fearful parents throughout America held hands with their fearful children promising the dreaded needle wouldn't hurt and declaring it sure beat the deadly crippling polio.
Most of those polio victims have now died, following a lifetime of leg braces, wheelchairs, and heart problems in later years. President Franklin Roosevelt was probably the most famous victim. Every kid had seen someone "with braces" and the worst victims were confined to an "iron lung." Much scarier visions than a runny nose and "flu-like symptoms."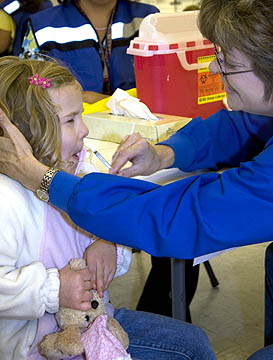 Even so, thousands of folks in Boise lined up at two locations in hopes their babies got one of the 2500 doses of the free vaccine. The supply was exhausted long before everyone was treated. The GUARDIAN visited the old K-Mart location at Apple and Park Center Blvd. The parking lot was jammed with cars and the line of those awaiting the vaccine snaked four times the length of the building. Some people had camped overnight, others arrived in the pre-dawn hours to get in line.
The STATESMAN had a good summary in their Saturday edition with info from the health providers.
Inside the empty store, it was a scene of well organized "stations" catering to toddlers and infants who required the dreaded needle, older children and adults who were administered the nasal vaccine. Many of the health workers were professional volunteers.


Parents and grandparents pushed strollers, wide eyed children clung to their stuffed toys and parents. Instead of the sounds of "price check register three," the old K-Mart echoed with the sounds of crying babies who had just been stabbed with a needle by a health worker. Despite the noise, the atmosphere was one of "community" with so much compassion in the air you could almost touch it. There was also the fear of germs in the air and plenty of hand sanitizer was consumed.
While we were there not a soul mentioned politics, insurance, or money. They all just wanted to protect their loved ones. Boise PD had coppers on the scene, but the event was orderly and filled with kindness.