Business
Macy's Departure Is Due To Inept Government
Macy's leaving downtown Boise comes as no surprise. For more than 40 years we have watched officials tout their "vision for the future" in downtown Boise. It changes with each new planner and consultant.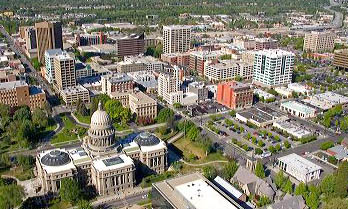 The Bon Marche (Macy's today), J.C. Penney's, The Mode, Falk's I.D. and many smaller merchants vanished, thanks to the far and near sighted visions of Boise politicos. Merchants who could afford to stay in business moved west where their customers lived and worked.
Used to be a "skid row" of downtown bars with names like CACTUS, EMERALD CLUB, BOUQUET, the WESTERN CAFE and others that attracted cowboys, lumberjacks, and assorted Western characters who came to town on weekends looking for girls, booze, and card games. There were also plenty of winos. The Western is gone along with most of the cowboys and lumberjacks. The booze, girls, and bars with the same names are now trendy elements of a "vibrant downtown night scene."
Four decades ago the Feds came up with something called, "Housing & Urban Development." The plan was to use Fed money to purchase blighted areas of downtown, level the buildings and sell the bare ground to developers at bargain basement prices as an incentive to "Renew" downtown.
One group of politicos held out for a "downtown mall." They were great at demolition, but creating a Phoneix from the ashes has been difficult. People got tired of the vacant blocks downtown and elected a new council that was bent on growth. They pushed for the mall as well as ANYTHING that would come into downtown.
Meanwhile The Idaho Statesman, Law Enforcement, St. Als Hospital, real estate developers, and every major retailer listened to planners and politicos and moved WEST to be at ground zero for the population boom. And did it ever boom!. That westward expansion continued unabated, encouraged by 40 years of government policies.


"HUD Houses" were built all over the place, subsidized by the Feds. At one time Idaho also had more Farmers Home Administration (FmHA) loans than any state in the union.
Those DIRECT LOANS from the Feds required a home be at least 10 miles from the city limits of a town of 20,000 or more population. When the developers got 10 miles outside Boise they were within 10 miles of Nampa. SOLUTION: Head south to build the likes of Fox Ridge Estates and Kuna…A recipe for urban sprawl encouraged by local and federal government policies. Today they do it with "planned communities."
Bottom line: RETAILERS GO WITH THE POPULATION–CUSTOMERS! Despite efforts of downtown developers and politicos, there isn't much of a "condo community" in downtown Boise and there never will be. Certainly not enough of them stacked atop one another to support a department store.
People come here to ski, hike, fish, and generally enjoy the outdoor mountain life. If they wanted to live in an urban tower they would stay in places like Seattle, Portland and San Francisco. Times are a changin'.
FROM POET PAUL
Macy's is closing downtown
I hope a new tenant is found
Before it falls to disrepair
And we all have to stare
At another hole in the ground!