Business
Idaho Sheriffs Use Deceptive Marketing Scheme, Plan To Dump Telemarket Firm
We all get the dinner time phone calls from someone representing the coppers asking us to donate to their "fight against drugs."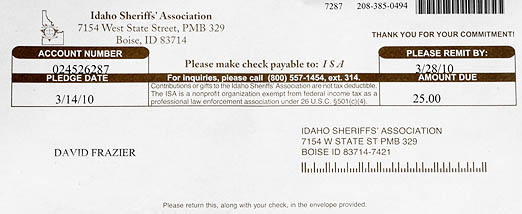 The GUARDIAN editor hung up on them a few weeks ago and subsequently got a very official looking bill for a $25 pledge to the Idaho Sheriff's Association with an address on State Street at one of those private mail drop places. The letter with a huge "IDAHO SHERIFFS' ASSOCIATION" heading is couched in language aimed at the sympathies of naive citizens.


A brochure with fake "before and after" shots of models purporting to be druggies is included in the package–it reminds us of those old VD pictures we had to view in junior high sex ed classes 50 years ago in Michigan. Also in the pack was a decal for your car that some people construe as a "get out of jail free card" to show coppers they donated to the cause.


A letter uses terms like "war on crime…focus the lives of youth away from drugs and alcohol…drug eradication program…scholarships for law enforcement." The letter also mentions the Association has, "secured the assistance of Community Safety, LLC." In plain English that means the Association has loaned its good name to a telemarketing/direct mail scammer that keeps about 80% of the donations.
The GUARDIAN contacted Vaughn Killeen, executive director of the Association who confirmed the letter and bill were sponsored by his group. He also said he was working to terminate the relationship and noted "some deceptive practices by the vendor." He favors a directing marketing campaign for funds.
Killeen went on to say the Association makes about $40,000 a year from the marketing program. Based on the discussion with Killeen that means the private marketing outfit takes close to $200,000 in the name of drugs and coppers from Idahoans.
We sympathize with the purported goals of the Sheriffs' Association, but hooking up with deceptive marketing firms only serves to undermine their cause. The Association lobbies on behalf of its members, conducts jail inspections to insure compliance with health and security standards, and serves as a legitimate forum for exchange of ideas and training standards. Hustling citizens for cash is tawdry endeavor they should avoid in our opinion.