City Government
Boise PD Gets Iconic Makeover For Man & Machine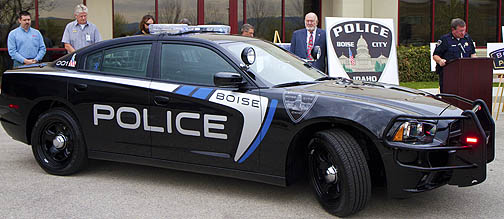 Like a scene from the television show "Extreme Makeover," Boise PD had a media event Friday to rollout new patrol cars and shoulder patches. With yelps of a siren and LED lights flashing, the first new "BLACK VELVET" patrol car rolled up sporting a silver "swoosh" on the door that looks like it had creative roots with Nike.
With several dozen coppers standing by, the media was treated to a brief history of the BPD insignia patch and patrol cars of the past. All the players who worked on the committee to select the Dodge Chargers were on hand. LED lights (which are manufactured locally) adorn the black velvet muscle cars along with massive cow-catcher push bars in the front designed to reduce damage during those PIT maneuvers where coppers push violators off the road when they won't stop.


The new patches–a remake of the current patch designed by everyone's favorite local politico and copper Vern Bisterfeldt–are an update of the familiar design of the Capitol building, but sport an American flag. Bisterfeldt is credited with designing the original patch during his night shift duties some 50 years ago.
The 20 "Black Velvets" cost taxpayers $490,000 ($24,500 each) and are expected to replace the entire fleet of 100 marked patrol over the next 4-5 years. There is an additional $10K worth of add-ons. The 140 "take home" cars in the fleet will remain mostly unmarked and come from a multitude of vendors. Top Copper Mike Masterson told the GUARDIAN those cars will soon be coming from rental agencies and purchased USED with less than 24,000 miles on them.