City Government
"Table Rock Park" Needs To Be Reality

The GUARDIAN has publicly pushed to make Table Rock a public park for years, but there seems to be a lot of "pushback" from "stakeholders." Today a survey has deemed it the best spot in the valley to watch a sunset.
Ironically, the place voted as the best spot to WATCH A SUNSET in today's Statesman reader poll is off limits after sunset, subjecting visitors to a $40 fee to get their car released if they savor the afterglow.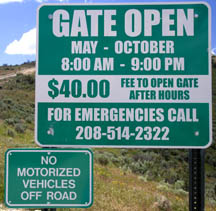 To its credit, the Idaho Historical Society which is the state agency controlling the public portion of the landmark, has recently made some access improvements to the area, including increasing the days you can take your out of town guests topside for the most spectacular view of the city to be found.
Opponents to a park have historically included Boise City Council and police who cite use of the area by drunken partiers, residents who don't want traffic on "their street," and the communications tower owners who rent space on the state-owned land.

Recently, a gravel parking area was constructed and new gates were erected which prohibit auto access to the viewpoint near the cross (owned by the Jaycees). It is about a 150 yard hike up an incline to get to where you can look down on the city. Those not dressed to hike or who have trouble walking on rough ground are pretty much shut out.
We will propose to the Idaho Historical Society that a paved strip of asphalt be contructed–à la Greenbelt– behind the new gates from the parking lot to the viewpoint, allowing the additional access. It would be nice to have portable–or permanent–restrooms and either an iron railing or rock wall around the edge to increase security as well. For the present, let's see if we can get the asphalt strip before summer is over.