City Government
"Paper or Plastic?" Goes To Polls In Hailey
The question of "paper or plastic" will be answered by voters at the polls in Hailey November 8 when they cast their ballots on a proposed ordinance banning plastic bags.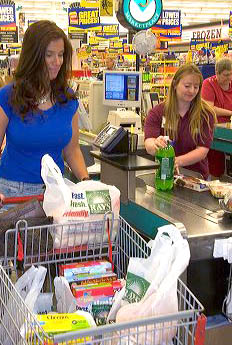 The issue got on the local ballot due to the efforts of the Wood River High school environmental club, W.A.T.E.R. (We Appreciate The Earth's Resources).
The issue goes way beyond the move to reduce pollution and use of petro chemicals. Not only is it a "greenie" political topic, but the folks in neighboring Jerome stand to get a bit of a slap in their collective face.
Seems the Hilex Poly Co.–the largest plastic grocery bag manufacturer in the USA–has a plant employing 125 workers in Jerome. The firm has a total of nine production facilities scattered around the USA. Hilex has hired a high powered PR firm, "Gallatin Public Affairs, formerly The Gallatin Group, to help defeat the proposed bag ban. Gallatin has a liberal reputation including that of former Idaho Guv and Interior Secretary Cecil Andrus who is "of counsel" at the firm.
Not only will the W.A.T.E.R club students get a lesson in environmental advocacy, but the kids will also learn about politics, unemployment, economics, and public relations–regardless of how voters answer the "paper or plastic" question.