Business
If Each New Job Creates 3-5 Other New Jobs, Does Each Job Lost Create 3-5 Added Losses?
The news from the J.R. Simplot Wednesday is bad any way you look at it. Loss of up to 1,000 jobs and closure of potato processing plants in Aberdeen and Nampa is not anyone's idea of holiday cheer.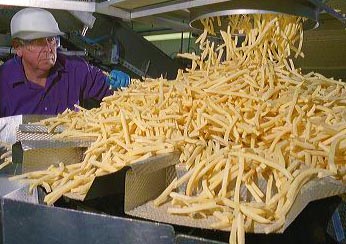 It's even worse using any of the gushingly optimistic estimates about "job creation" related to the new Greek Yogurt plant about to be built at Twin Falls. Here is an excerpt from a Twin Falls Times-News newspaper editorial:
"And before you know it, the 7.57 multiplier similar to that of a cheese manufacturer can parlay the economic benefit of 400 new jobs into a number closer to 3,000."
Even if a potato processing plant has only a 2-4 multiplier, it's reasonable to conclude the closure of the Simplot french fry plants would put another 3,000 Idaho workers on unemployment. The Idaho Dept. of Labor tells the GUARDIAN the official multiplier for that industry is close to 3.
Our point is new businesses seldom live up to projected economic benefits. Likewise, while closures are never good, they are seldom as bad as projected. Prior to the Simplot announcement, Gov. Butch Otter told a radio audience each of the 400 jobs at the yogurt plant create an additional 7 jobs. A former Simplot executive and family member himself, Guv Butch will have a hard time defending claims that loss of 1,000 jobs at the closed plants won't mean 3,000 additional job losses.
Simplot simply can't sell all the french fries (a style of fried potato, not really from France) it has the capacity to produce. Tastes are changing. Greek yogurt (a style of yogurt, not really from Greece) is all the rage among certain cultures.
It took an act of congress to get potatoes back on the school lunch menu approved by the U.S. Government. Our famous potato is being maligned by health enthusiasts and the USDA.
Like the Potato Famine in Ireland (1845-1852), our dependence on the underground tuber is causing hard times for Idahoans.
This excerpt from Wikipedia sounds all to familiar: "the impact and human cost in Ireland – where one-third of the population was entirely dependent on the potato for food – was exacerbated by a host of political, social and economic factors which remain the subject of historical debate."