Federal Government
Navy Contract Reads Like Dream Ski Vacation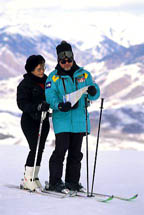 If you are swishing the Warm Springs run at Sun Valley and find a guy following you with machine gun and a bumper sticking reading, "WE GOT OSAMA," you just might be in the middle of a training exercise.
We feel a bit like the Wikkileaks guy in England, but since the information is already on the internet and appears to be a legitimate U.S. Gov posting, we have decided to share what is either a dream vacation, a recruiting film production, or an attempt to boost the economy of a lucky ski resort–like SUN VALLEY.
The Idaho ski resort is no stranger to the Navy, having provided hospital-type care facilities during WWII.
"Ski passes, helicopters, guides, snowmobiles, lodging above 5,000 feet elevation, and back country guides" are all included included in what appears to be a Navy Seal "education and training" bid specification.
Check out THE LINK.